Updated 8/11/09: No, he's not.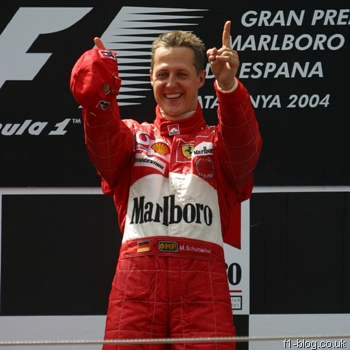 The AP is reporting RIGHT NOW!!! 16 minutes ago, that Michael Schumacher will replace the injured Felipe Massa at Ferrari for the rest of the season following a health check. Cause, ya know, he might not be FIT to drive an F1 car. heh.
Man.
I know it's not cool, but I am a HUGE Michael Schumacher fan. I enjoyed him while he raced and I've missed him since he's been gone. You better believe I'm gonna be glued to the TV in a month for the European Grand Prix. If only I could afford tickets.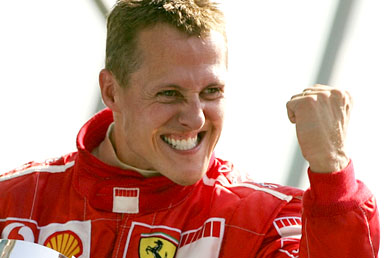 Here's the text of the AP article. I'd link to it, but these things disappear constantly.
Schumacher to make comeback to replace Massa

(AP) – 16 minutes ago

ROME — Seven-time Formula One champion Michael Schumacher is making a comeback for Ferrari to replace injured driver Felipe Massa.

Ferrari said Wednesday in a statement that the German had agreed to get back in the cockpit until Massa is fit to return. The next race is the European Grand Prix on Aug. 21-23 in Valencia, Spain.

"Though it is true that the Formula One chapter has long been closed for me, it is also true that for team loyalty reasons I cannot ignore that unfortunate situation," the 40-year-old Schumacher said. "But as the competitor I am, I also very much look forward to facing this challenge."

The 28-year-old Massa was hit in the helmet by a loose part from another car and crashed into a protective tire barrier at 120 mph during qualifying Saturday at the Hungarian Grand Prix.

Ferrari said Schumacher will undergo a special training program in the coming days to determine whether he will be able to drive in Valencia. There are six races left in the season after the European GP.

Massa took his first steps since the crash Wednesday and was later scheduled to leave the intensive care unit of the AEK hospital in Budapest.

"Thanks God, all news concerning Felipe are positive. I wish him all the best again," Schumacher wrote on his Web site.

Schumacher, who had 91 wins in 250 F1 races starts, still acts as a consultant for Ferrari. Since retiring in October 2006, Schumacher has raced occasionally in a motorcycling series but was injured in a crash in February.

Copyright © 2009 The Associated Press. All rights reserved.