revlimiter Gauges - Modified to your own specifications.
Details
Don't like my choice of zero position for the tach and speedometer? Change it! It's quite resource intensive, since I have to cut a full sheet of gauges, but it can be done.
Move the tach redline up or down. Grow it or shrink it. Or add more range to the tach and speedo if you like. They don't stop working till about 10mm counter-clockwise from the zero mark.
Change the font style used on the gauges. You must have the font file to send me if you make this request.
Change the color of the face to something other than black. Want white? Sure. Want to match a color? That takes a bit of time to accomplish, but should be doable.
Want a different logo on the tach than is present on the gauges you like? Sweet! I've got nearly every logo Mazda has ever done. And if I don't have it, I can draw it up for you.
Price: Modifications are charged on a time-required basis. I charge time fractionally based on $40 per hour. A font change might take 30 minutes, so that would be $20 extra for example. Extra charges for your set just depends on how much you want done and how many hours it will take me.
Snow White Delta
A simple order - Delta gauges in white for a Canadian customer who's fond of the weather up there.
The white is VERY stark white. Hard to photograph, but beautiful in person.
White ghosted lighting with white LEDs.
Macy
This was a re-order. The customer really wanted his red tach Warbird gauges done with the Gen3 colors and materials. It took about 45 minutes to convert the colors and artwork over to Gen3 spec.
The red is insanely vibrant. I could never produce this kind of thing with the Gen2 materials.
White LEDs really make the gauges pop at night.
OEM+ Creme
This was a request for as close to the OEM NB 6:00 creme gauges as I could possibly make. Note the scale - 200 mph.
As OEM as possible. And NO ghost lighting. This is my first attempt at using the translucent blacks that Gen3 allows.
It wasn't at all easy, but I did it. No ghost lighting through the black numbers. Perfect artwork alignment and as close to the OEM amber/red color as I could get. I hope
Laguna Blue
The spot colors I can print with the Gen3 gauges allows me to get a lot closer to actual paint shades. This is as close as a Laguna Blue color as I can achieve.
The blue background has a lot of depth to it for not being actual paint. As light and shadow moves across it, you get a lot of color change in the faces.
Light leaks from the needle centers create the blue around the center of the gauges. It looks pretty awesome on this set.
About the Ordering Process
Every item in this store is hand-crafted, made one set at a time. Everything is made to your specs. There's no mass production. Because of this, there might be a short delay between placing your order and shipping. Gauges usually take a couple days to make. If there's a long wait list, I'll contact you via email to inform you of any delays.
Site Navigation
Latest Blog Posts
*tap tap* Is this thing on?
Posted on Mon, 05 Mar 2018 23:11:09 +0000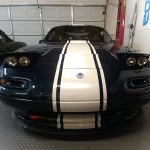 Just checking in to say that me and Sharka are still alive.
Read more...
The Complete Watanabe Falcon Collection
Posted on Fri, 03 Nov 2017 18:23:27 +0000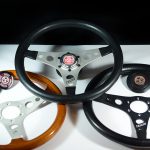 I've put together all three known variants of the Watanabe Falcon steering wheels. Check out the pix.
Read more...
Bucket List Item – Sharka Drives Laguna Seca
Posted on Wed, 25 Oct 2017 04:07:52 +0000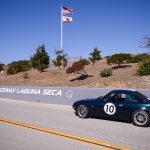 I get to drive Sharka in anger at Laguna Seca. A lifelong dream.
Read more...
Bucket List Item – Attend Miatas at MRLS
Posted on Sun, 22 Oct 2017 18:45:52 +0000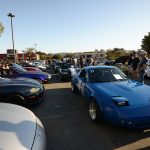 I've wanted to attend Miatas at MRLS ever since it became a thing. Just to hang out with so many Roadsters and enthusiasts? Yes please.
Read more...
Bucket List Item – KINOD Caravan
Posted on Tue, 17 Oct 2017 20:57:03 +0000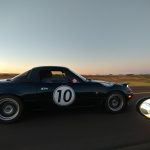 After so many years in Miatas, I have a huge Bucket List. In October 2017, I got to scratch off a bunch of items.
Read more...