Posted on April 22, 2015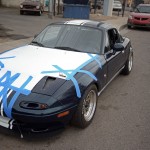 I've had a super rare Garage Vary hood in storage for a couple years. Anyone remember? It finally came out in the sunlight.
Read more...
Posted on April 13, 2015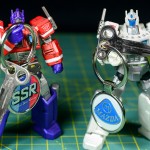 I've been collecting aftermarket Miata keys for a little while now. The collection is reaching critical mass and I thought I'd take a few photos and play with my toys. Toy playtime is important you know. The first two are Royal Clover Pole Position keys. They're the ones I've had the longest and the ones […]
Read more...
Posted on March 27, 2015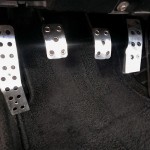 Metal pedals get slippery when wet. Who knew? A quicky mod with some skateboard grip tape solves that problem.
Read more...
Latest Site Updates:
• NB Window Switch Install
It's only 6 wires and a bit of plastic cutting, but the NB Window Switch install is still far too complicated for what it is. Instructions definitely required.
• Hazard Switch Install
It's not the most difficult part in the world to put into a Miata, but it's always nice to have some pix to help out. The Hazard Switch install is not to be missed.
• NA HVAC Panel
The tips and tricks necessary to swap your tired stock HVAC panel face with something a little nicer - NA HVAC Install.
• NB S2000 Start Button
Got an NB? Want an S2000 start button? Well I got ya covered! I wrote an NB version of my S2000 start button install. All the same in-depth info, but with NB specific directions.
• NB Gauge Face Install
I followed up my NA Gauge Install with an even-better gauge face install for 99-05s. Even better means about 42 pix. Photos of damn near anything you could need a photo of. NB folks don't need to feel neglected anymore.
• The revlimiter.net Store
I've wanted to open up a store section on my site for a long time now, but never had the energy or spare time for it. I'm gonna give it my best effort and see how it goes. Please look around and forgive any badly laid out pages or spelling mistakes. The revlimiter.net Store.
• NA Gauge Face Install
I've installed enough gauges in my time. I finally wrote a full gauge face install for 90-97s. It is as complete as I can possibly make it. Tons of text and 23 photos. Hopefully, it helps some NA people.
• Garage Vary Tail Light Install
This beautiful tail light kit comes with all-Japanese instructions with almost no illustrations. I knew I had to do a full installation.
• Side Winker Install
Every market but the US gets cool little blinkers in their fenders. I bought some and was having stress about cutting up my precious fenders, so I thought I'd make a how-to documenting every possible part of this small project. Be warned, I played with my toys on-camera again.
• Low Profile Headlight Wiring
I installed my Moss lowpro lights in my new 95 and wrote up a wiring diagram article in place of my old headlight info article. Check it out.
• S2000 Start Button
In 2001, I wrote up the how-to for Miata.net for installing an S2000 start button in a 90-97 Miata. I've now updated it. Check out the new S2000 start button install.