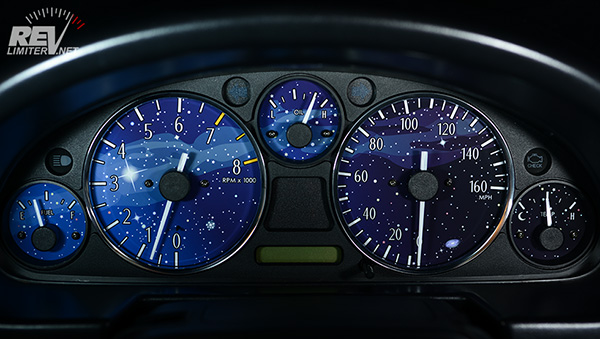 revlimiter Gauges - Version Cosmos
Details
All-plastic, robot-cut gauge face set for all NB Miatas (98-05).
Matte finish. Blue/purple face, white text.
6 o'clock tach/speedometer zero position.
0-8000 RPM, 0-150 MPH.
Redline at 7000.
High beam indicator is relocated to the left corner above the fuel gauge in place of the CRUISE or low fuel indicator. The CEL indicator is moved to the right corner above the temp gauge (unused on many Miatas).
Other indicator lights (ABS, HOLD, pass airbag) are eliminated.
Your choice of lighting color. Examples of backlighting color options are here.


Read the NB Gauge Installation Tutorial


Buy the Cosmos NB (98-05) Gauge set - $129 USD
Site Navigation
Latest Blog Posts
Return of the Star Sharks
Posted on Sun, 18 Aug 2019 22:13:41 +0000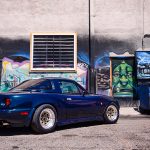 Sharka gets his Star Sharks back.
Read more...
PSA – Avoid Cheap Silicone Radiator Caps
Posted on Sun, 11 Aug 2019 22:51:51 +0000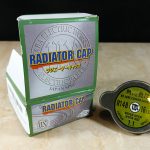 Microblog about a silicone radiator cap that turned out to suck. Save your $10 and don't buy one of these.
Read more...
Spotlight – FM's Captain Bob
Posted on Sat, 10 Aug 2019 02:09:26 +0000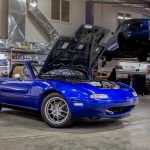 Flyin' Miata's newest project car gets the spotlight shined on him. Say hi to Captain Bob!
Read more...
Actual Size
Posted on Mon, 22 Jul 2019 02:51:21 +0000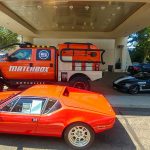 Mona hits the Matchbox Convention.
Read more...
Baby Mud Guards (Front, NA)
Posted on Fri, 28 Jun 2019 00:08:04 +0000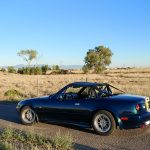 Some new DIY mud guards for Sharka.
Read more...