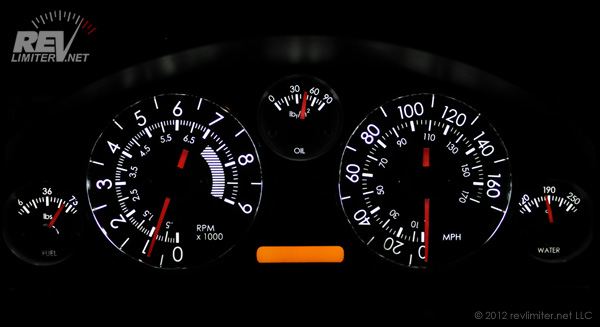 White LED lighting on NB Version Warbird gauges.
Details
These are my standard lighting options on all Gen3 revlimiter Gauges as of July 2017. Other colors can be created if you wanted to special order something.
I strive for perfection. The NA cluster in particular doesn't always allow that. The metal speedometer guts block light to the bottom of the dial face. I try to compensate as much as possible, but the lower part of the NA speedometer will always be darker.
The photos are as close as I can get to reality. The colors might be slightly different to your eyes when you get your gauges, but they should be very close.
Similarly, the lighting below should be very close to what you really see with your eyes. I have not altered these photos to make dark spots brighter or hot spots dimmer. This is what my camera saw when I clicked the shutter.
You can order white LEDs or silicone bulb covers from this store when you buy gauges.



Price: Most lighting options below are included in the gauge price. Options that use a colored bulb cover to change the tint of the lighting (sometimes called a bulb condom) will add $5 to the price.

White/Clear Lighting
The highest quality and most even lighting type I can produce is the white/clear lighting. This means that no tint is baked into the gauge and any night lighting color is produced by the bulb you choose to install.
White/clear lighting with OEM bulbs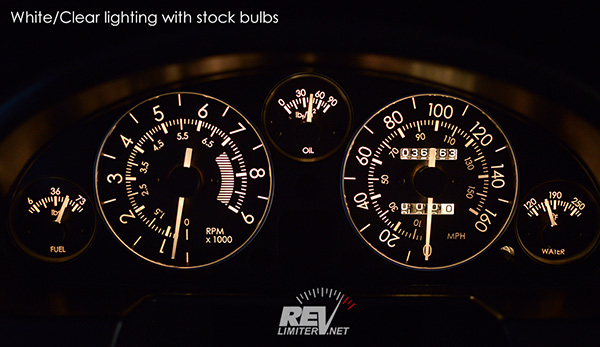 White/clear lighting with the stock bulbs installed. This gives a nice yellow incandescent glow. It matches a vintage interior nicely and is my favorite for Sharka, my 95 Miata.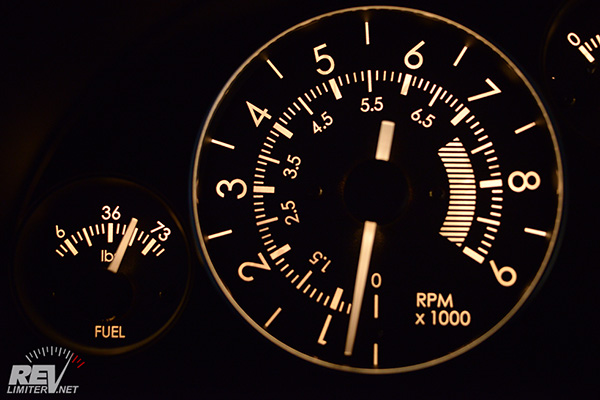 White/clear lighting allows the gauges to be as bright as possible with the OEM bulbs. Adding tint takes away light.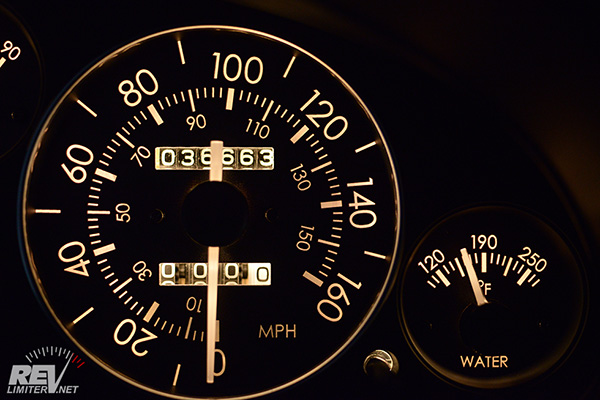 Version Warbird NA
revlimiter Gauges shown here. I used this same set for many of the photos below with different colored bulb covers.
White/clear lighting with LED bulbs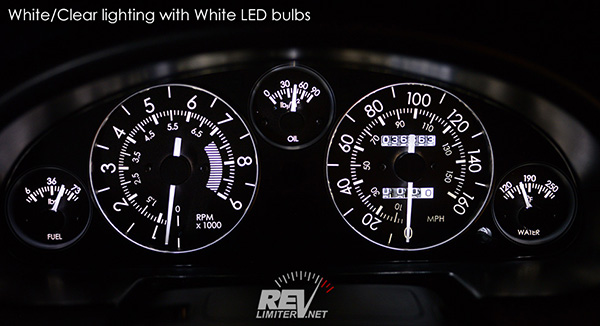 White LED bulbs installed in the Warbird gauges. These are the bulbs I sell and recommend for the best lighting.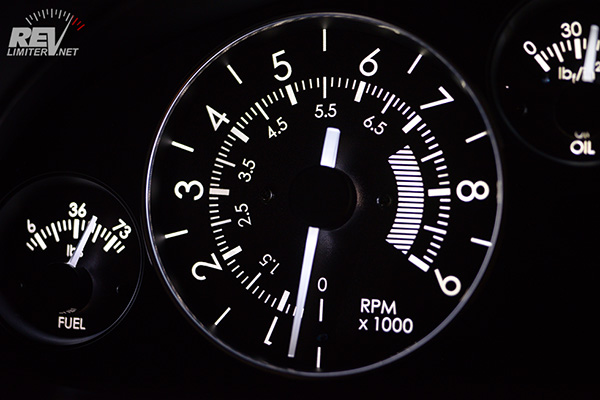 LED lighting is around 4x as bright as the stock incandescent bulbs. That's two stops of light brighter for fellow photographers. And yes, they work with the stock dimmer switch.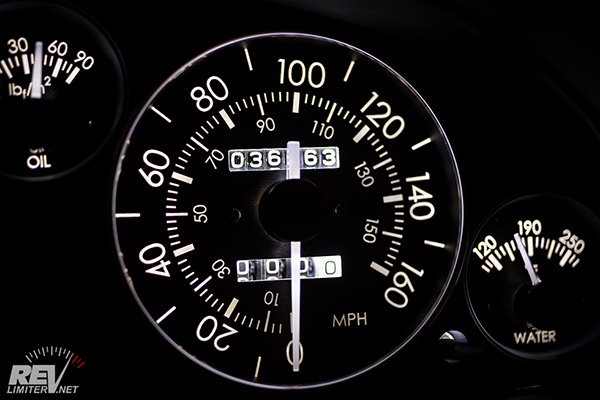 Baked-in Lighting
Baked-in lighting means that the gauge set you ordered has a tint color baked into it to generate the night lighting color. For example, if you order blue lighting baked into the gauge, it will ALWAYS light up blue no matter what bulb or lighting source you install. If you wanted the freedom to change your lighting color in the future, you would want to oder white/clear lighting with your gauge set.
Baked-in Amber lighting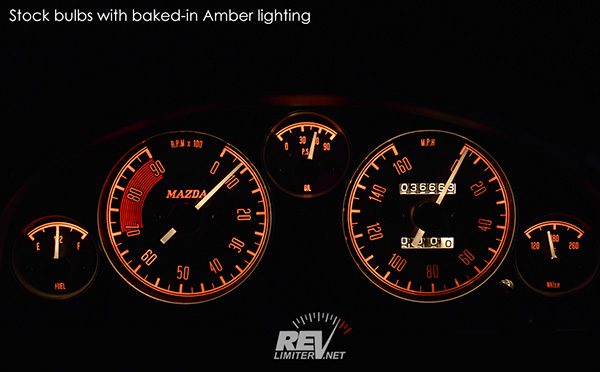 This set shows the amber tint with OEM bulbs behind.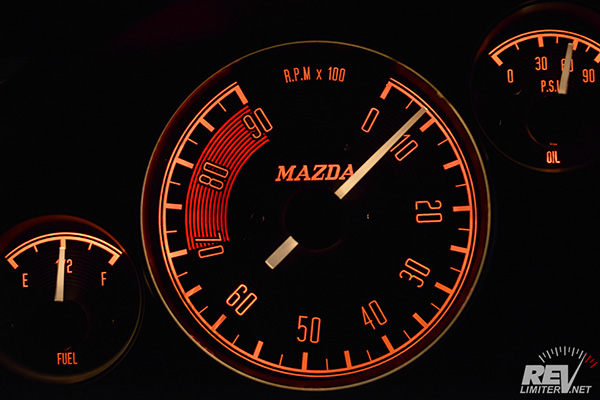 Version Stirling NA
gauge set is shown here.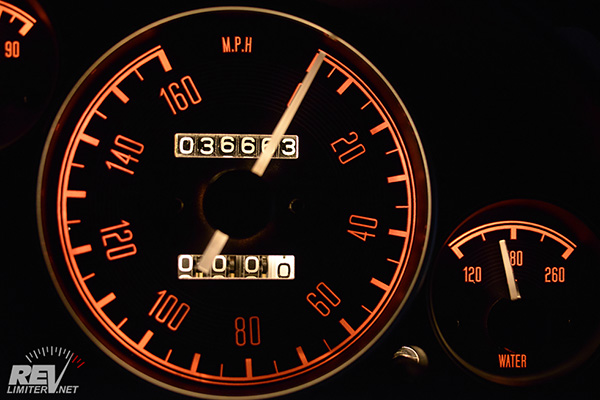 As you can see, the bottom of the speedometer is a bit darker due to the metal odometer housing between the light source and the face.
Baked-in Amber with LED bulbs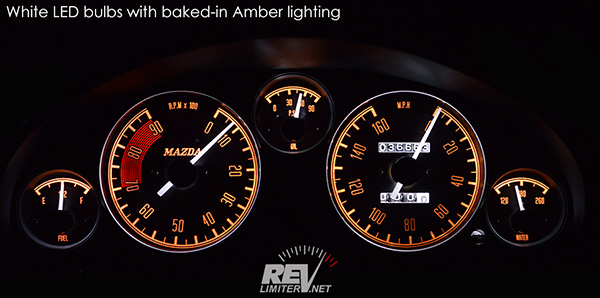 This is the same set of gauges with white LED bulbs installed.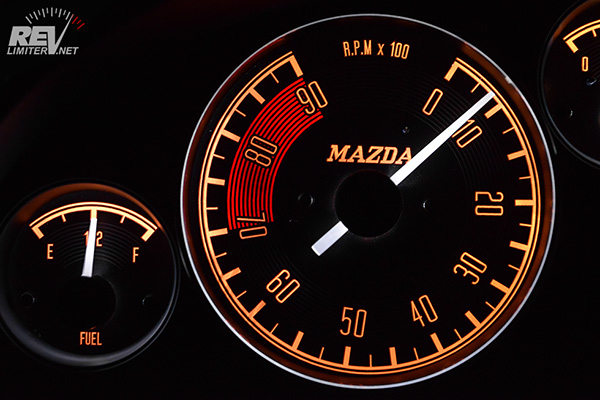 The white LED bulbs show the true color of the amber tint. OEM bulbs add a bit of yellow to it, making it more orange.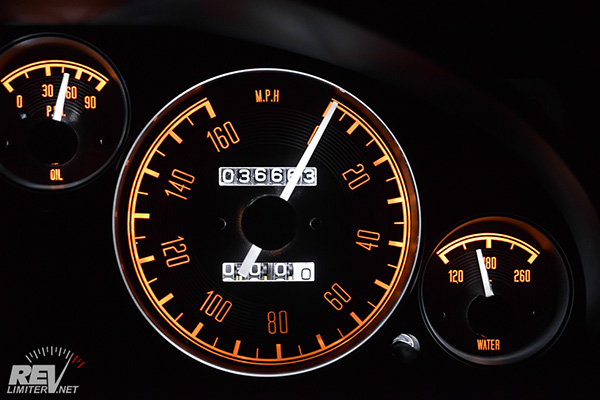 Baked-in Red lighting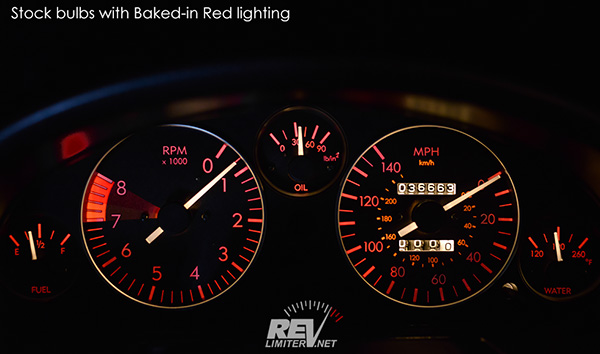 Baked-in red lighting is difficult. No matter how much red you tint the face with, it still comes out a bit pink thanks to the white numbers. But it IS much more red than the old Gen2 lighting.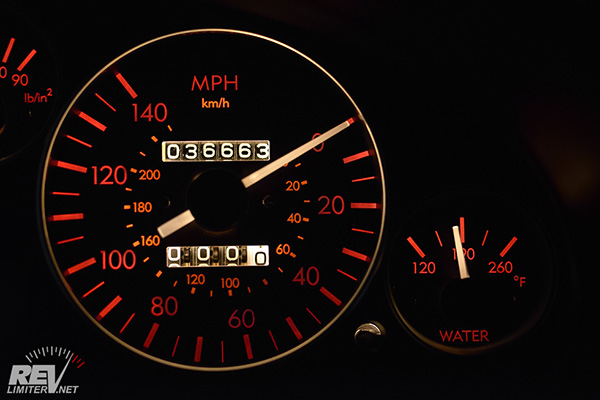 Version Prototipo
is shown modeling the red lighting.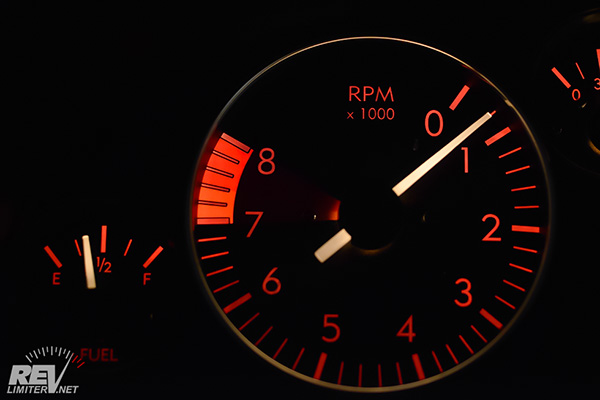 Baked-in Red with LED bulbs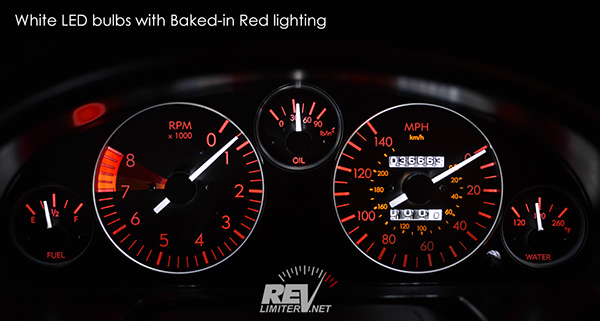 And here is the same red lighting with white LED bulbs. It is brighter, but a bit more shifted toward the pink end of the spectrum.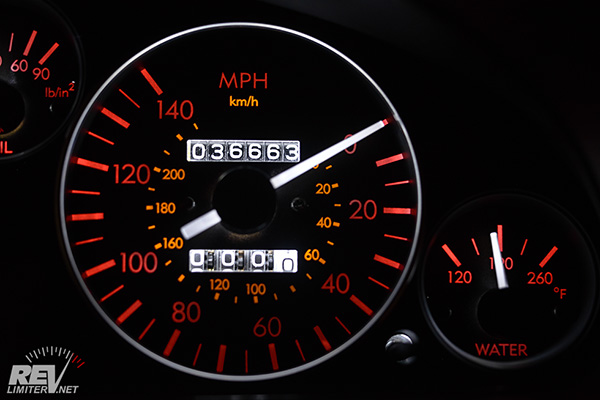 If you're looking for as true a red as possible, white lighting with red bulb covers (seen below) is the best.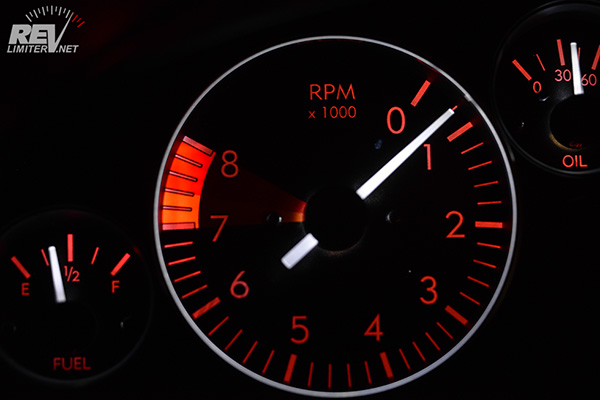 Baked-in Green lighting with LED bulbs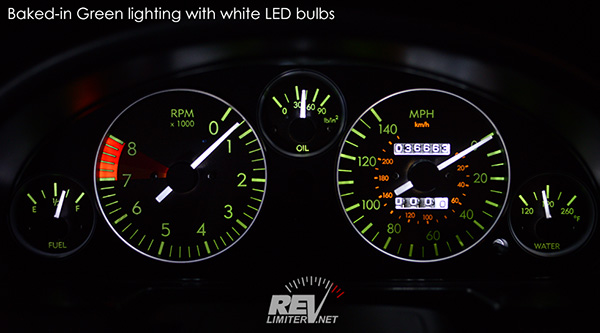 Here's the baked-in green lighting with white LED bulbs. The result is nice and bright. It looks great in an NA/NB green-lit interior.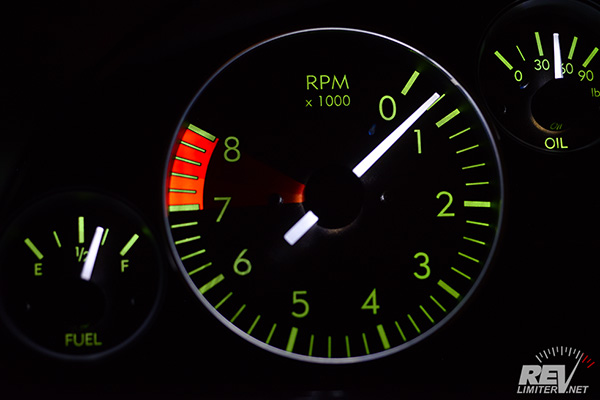 This green is NOT an exact match for the OEM lighting, but it's a good compromise between the NA and NB shades.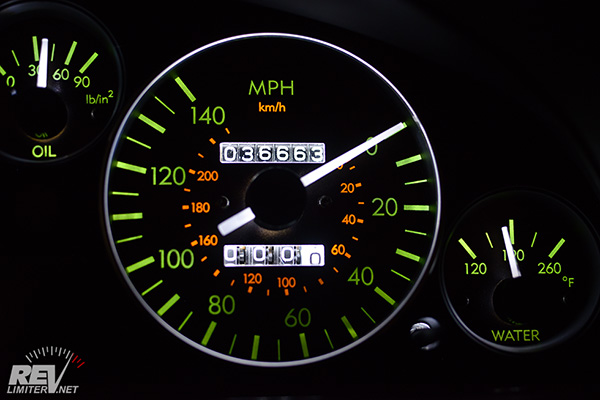 Baked-in Green lighting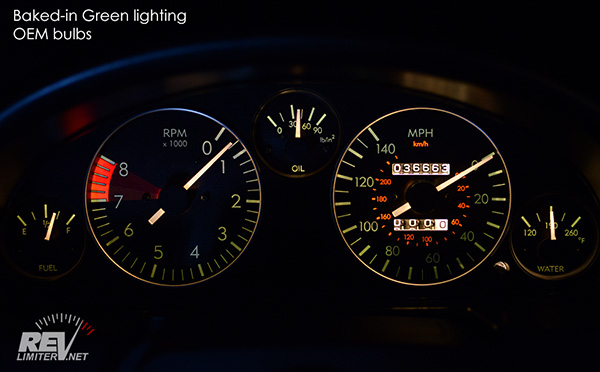 Here's the green lighting with OEM bulbs behind. It is a lot dimmer and not as green. The yellow incandescent bulbs remove a lot of the green.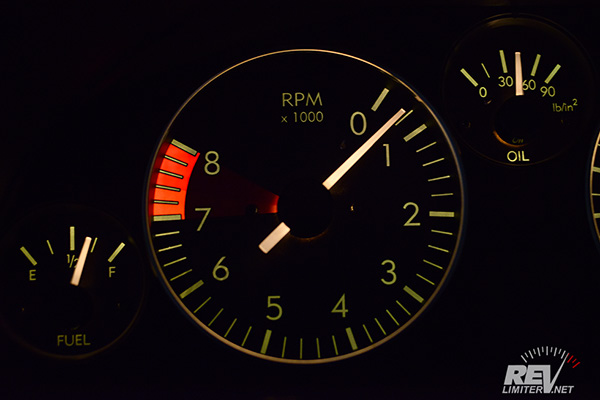 These pix are basically straight out of my camera (as are all of them), just resized and watermarked. Your eyes see things a bit more clearly, but I wanted to show the pitfalls of the various lighting color as accurately as possible.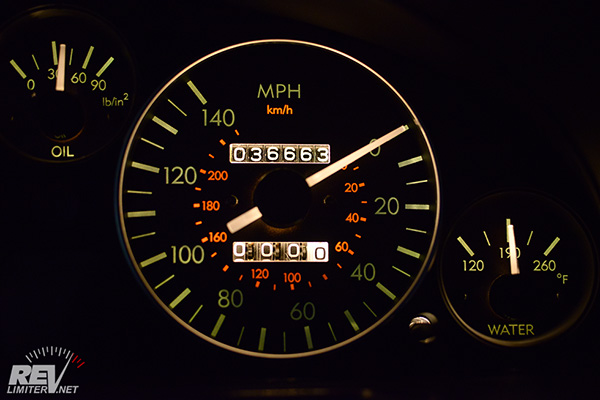 Baked-in Green lighting with stock green bulb covers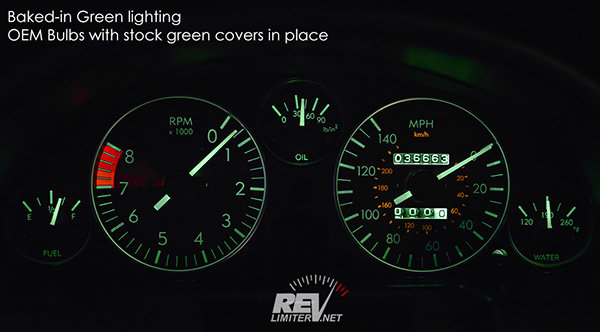 Lastly, here's the same gauges with stock NA bulb covers installed on the bulbs. Very dim, but a good OEM green match.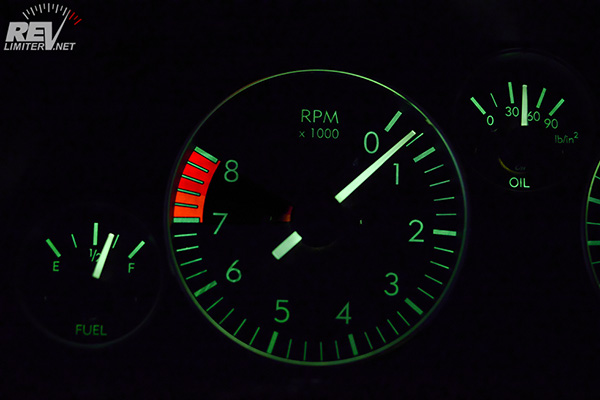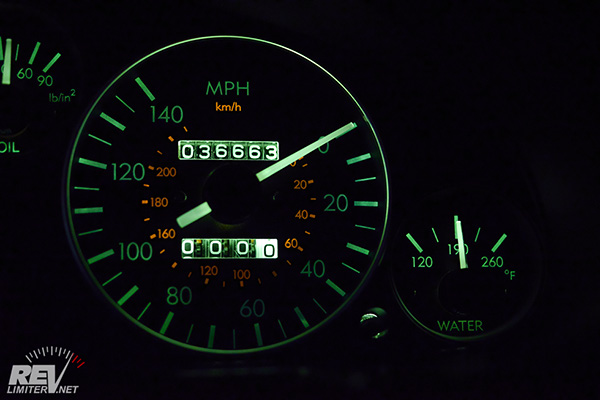 Baked-in Blue lighting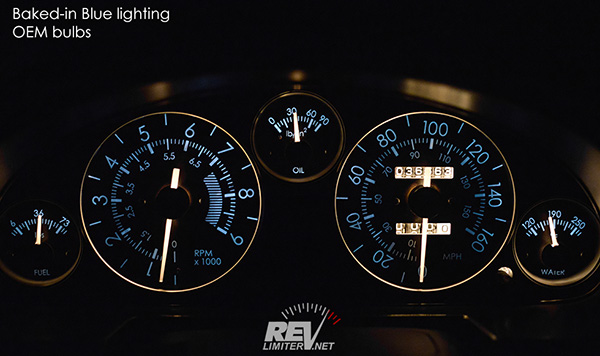 Another option - blue lighting baked into the gauge.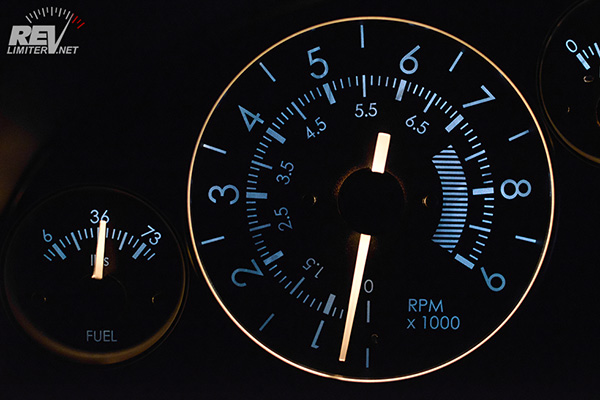 This is dimmer than the baked-in amber lighting and about as bright as red and green.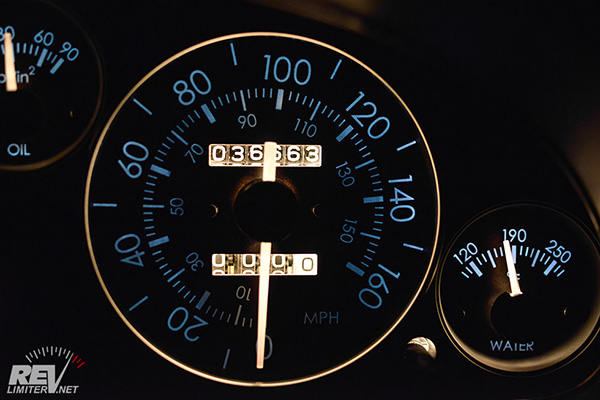 Baked-in Blue lighting with LED bulbs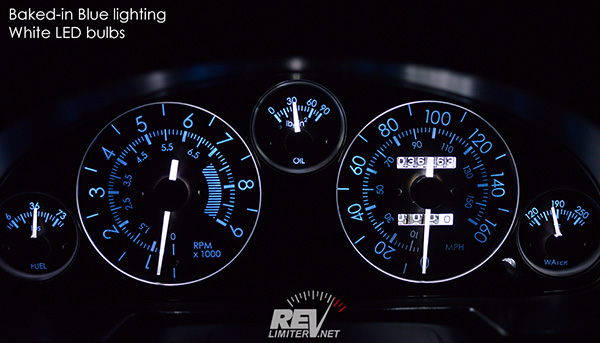 Adding white LEDs to the blue lighting really makes them shine. The results are pretty spectacular.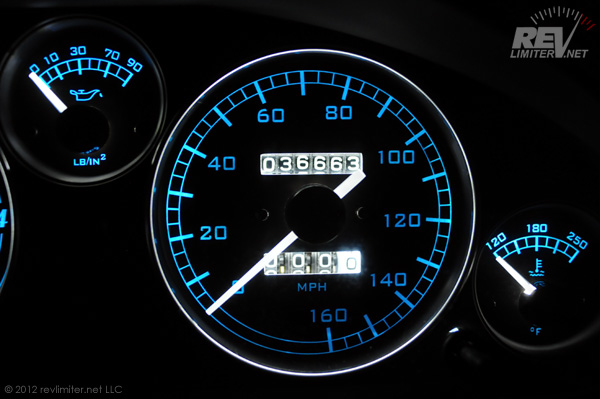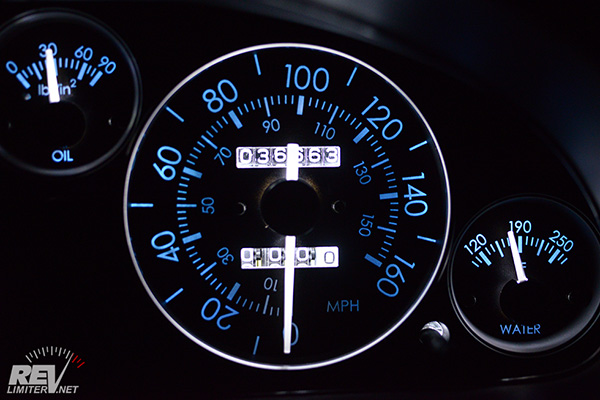 Baked-in Purple lighting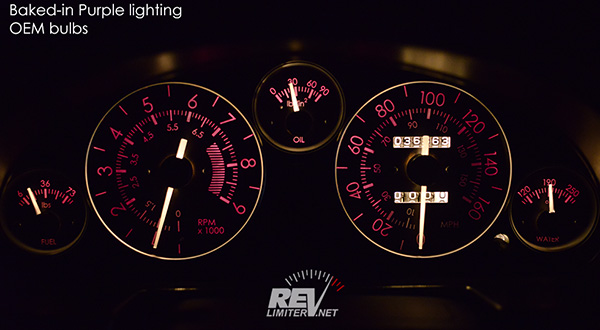 This is purple lighting with stock bulbs. The yellow incandescents shift this toward the pink end of the spectrum.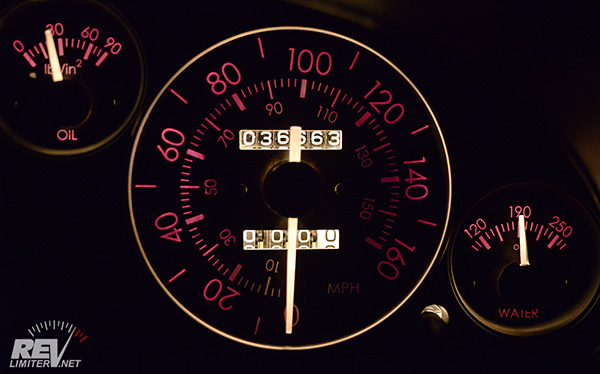 I definitely recommend using LED bulbs with purple lighting. This doesn't work well with stock bulbs.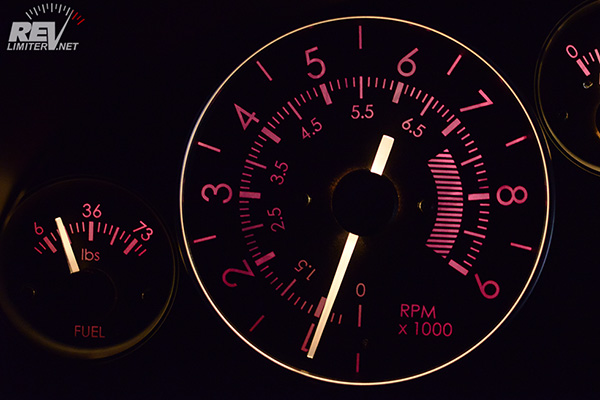 Baked-in Purple lighting with LED bulbs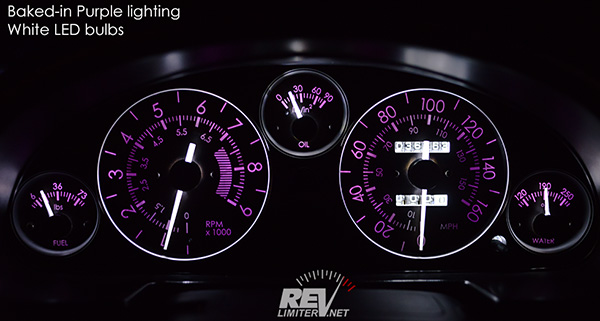 THIS is purple lighting. So much better than with the stock bulbs. I sell this color just because of how awesome it looks with the LEDs.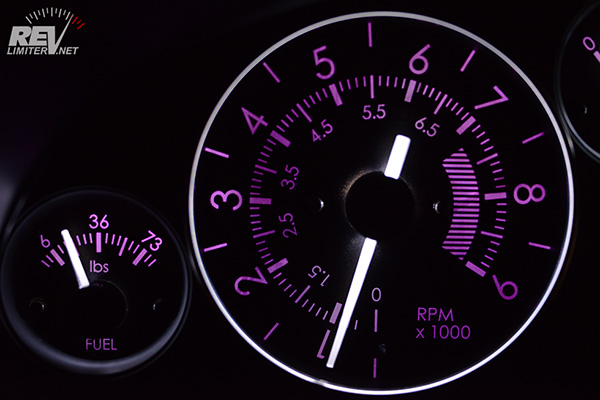 The LED bulbs are a lot brighter and produce a true purple hue.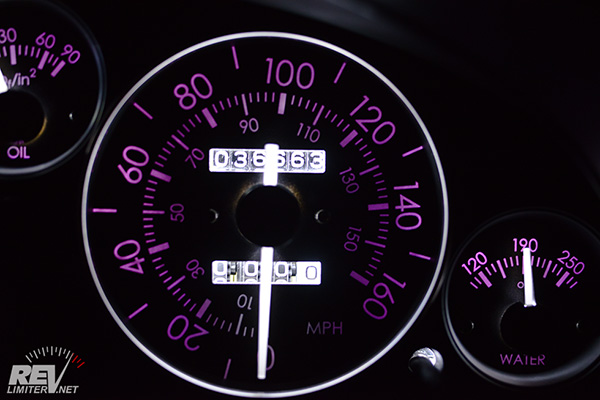 Lighting with Bulb Covers
If you order gauges with colored bulb covers, you'll receive a set with white/clear lighting and a set of tiny condoms to roll over your stock bulbs. Please note that LED bulbs do NOT take condoms. Since an LED is a multipoint light source, you get a pattern of light and dark bands when a bulb cover is installed over top. LEDs should be ordered in their native color.
Red Bulb Covers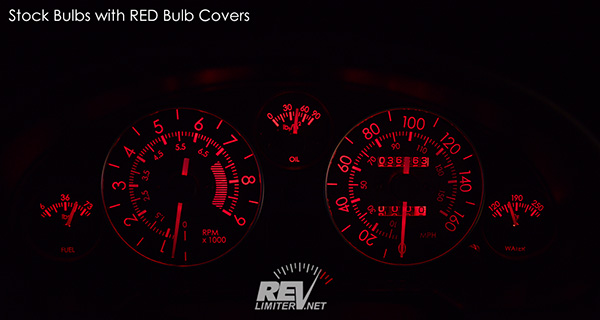 Nearly impossible for my camera to capture. The red lighting with bulb condoms is absolutely bloody. Or perhaps I should rephrase that for search engines... ha!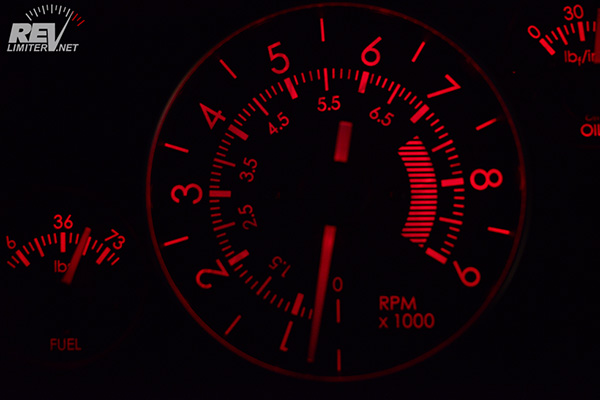 Red bulb covers reduce the lighting output quite a bit. Expect the lighting to be about half as bright as OEM green lighting.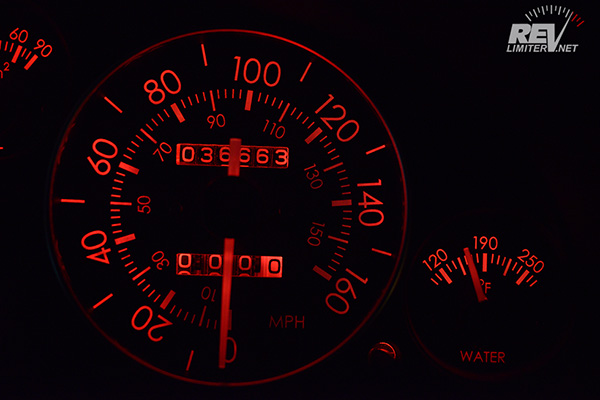 If you want a very red night look, this is it.
Amber Bulb Covers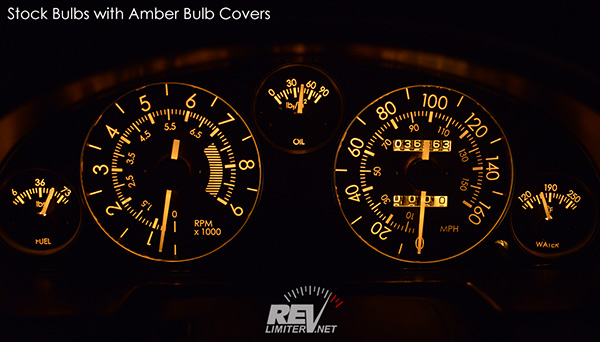 The amber created by the bulb covers is a lot closer to yellow than it is to orange. It's got decent brightness though and is very soothing.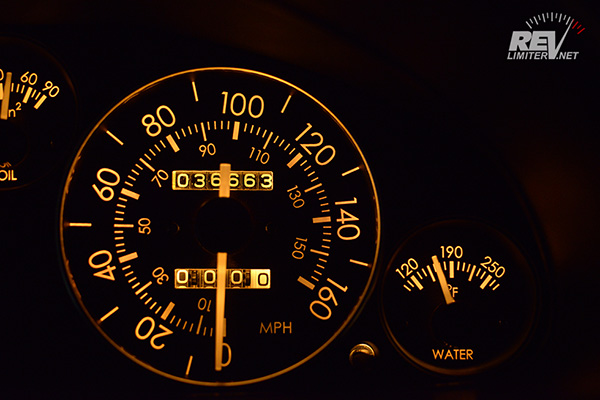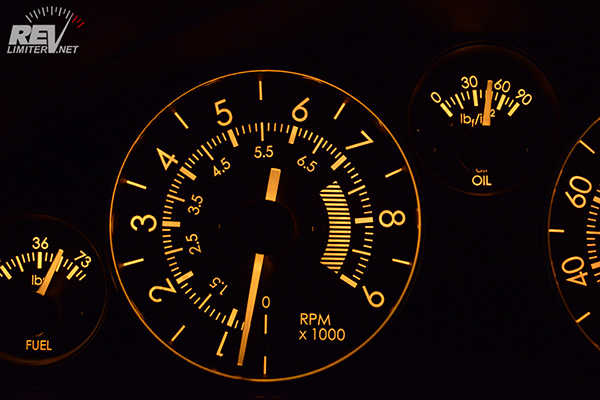 Blue Bulb Covers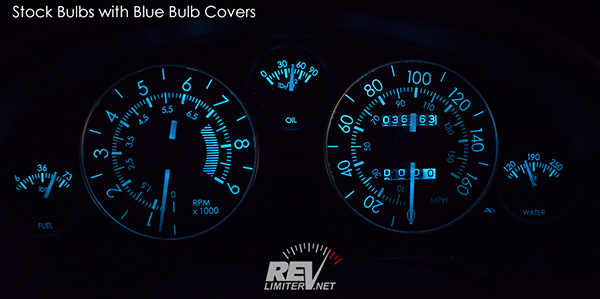 The blue bulb covers give an ice-cold glow.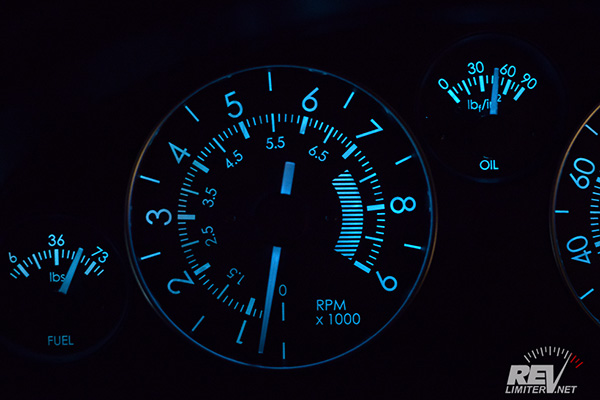 The blue-cover lighting is pretty dim. I won't lie. It's nothing near as bright as blue baked-in lighting with LED bulbs. But it is quite blue.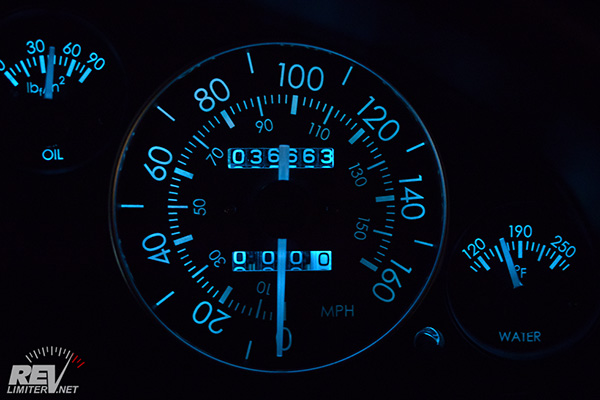 About the Ordering Process
Every item in this store is hand-crafted, made one set at a time. Everything is made to your specs. There's no mass production. Because of this, there might be a short delay between placing your order and shipping. Gauges usually take a couple days to make. If there's a long wait list, I'll contact you via email to inform you of any delays.
California Residents:
California requires the following notice: Gauges may contain Bisphenol A (BPA), a chemical known to the State of California to cause harm to the female reproductive system. You can be exposed when you install the gauges. Always wear the included gloves and wash your hands after installation. For more information go to:
www.P65Warnings.ca.gov/BPA
.
Site Navigation
Latest Blog Posts
CarbonMiata Vent Window Install/Review
Posted on Mon, 30 Jan 2023 01:47:44 +0000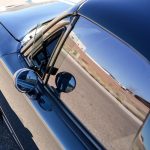 After waiting 23 years, there's finally a GOOD vent window kit on the market for the NA/NB Miata.
Read more...
Period-Correct 90s Rear Speakers
Posted on Mon, 11 Oct 2021 02:12:26 +0000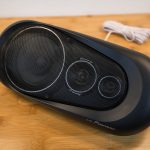 Sharka's rear package tray now holds more than just a rollbar. A set of 90s speakers is the next upgrade for the little blue and white boi.
Read more...
GV Tail Light Upgrade
Posted on Tue, 28 Sep 2021 02:05:06 +0000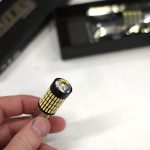 TLDR; LEDs are brighter, who knew?
Read more...
Mona Visits Joshua Tree
Posted on Sat, 26 Jun 2021 03:21:12 +0000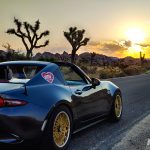 Mona checks out the curious multi-armed residents of Joshua Tree National Park
Read more...
KINOD 15
Posted on Sun, 20 Jun 2021 22:49:33 +0000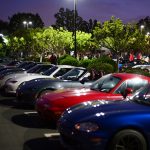 Mona and I made the pilgrimage to SoCal for the 15th Anniversary KINOD Event.
Read more...