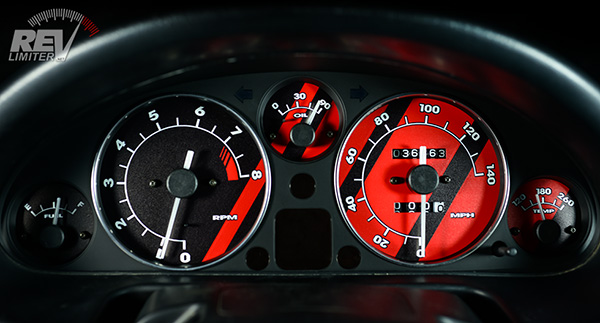 revlimiter Gauges - Version Advance
Details
Aerospace polymer laser-cut gauge face set for all NA Miatas (90-97).
Gen 3! Digital screen printed. OEM textured surface.
6 o'clock tach/speedometer zero position.
Versions available for all world markets (USDM, JDM, EUDM, UK).
Redline at 7000.
Dummy lights below the tach (airbag, lights-up, hold) are eliminated.
Your choice of lighting color. Examples of backlighting color options are here.
Shipping calculated at checkout. US customers receive Priority Mail. International orders will be sent via EMS or Priority International.

Read the NA Gauge Installation Tutorial



Advance Currently Unavailable

OR customize this gauge set!
Custom Gauge Price: $129 + design time
Modifications are charged on a time-required basis. Usually these requests will add $60 (1 hour) to the base price of the gauges. It just depends on how much you want done and how many hours it will take.
Completely customizable. Want a different tach/speed rotation? Different font? Something other than a black background? I can make that happen.
Check out some of the custom work I've done for other customers.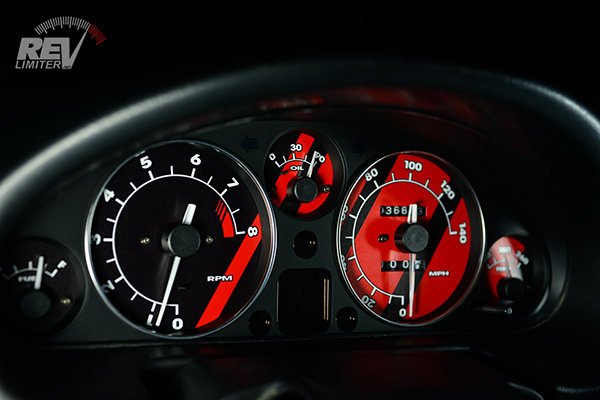 I've wanted to do some race livery-style gauges for a while. My first attempt is the classic Advan red/black design.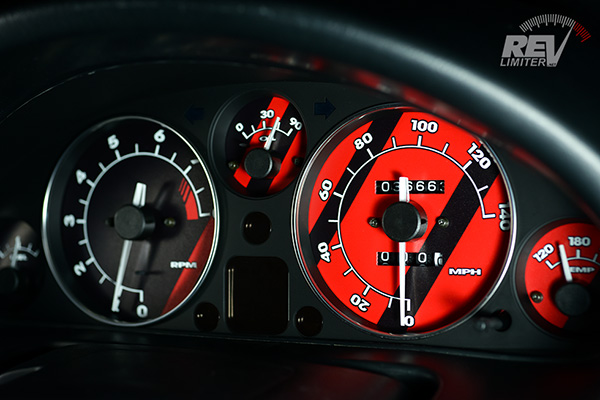 The red is bold and bright. The slash pattern flows through each gauge.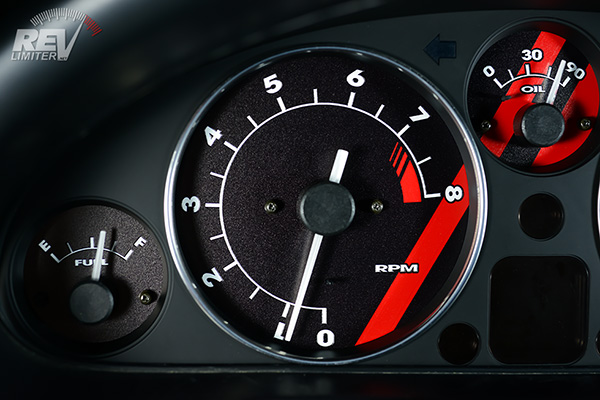 I'm really proud of that redline. And if you wanted a logo added to the tach, it's a simple custom order which wouldn't add much to the price.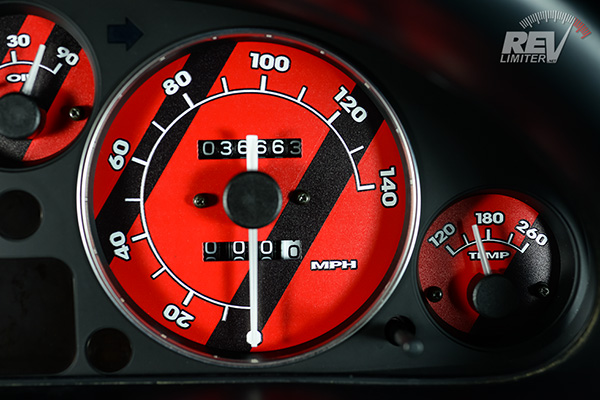 The speed face really in bright red. And the font is an exact match for the Advan tire branding.
Night Mode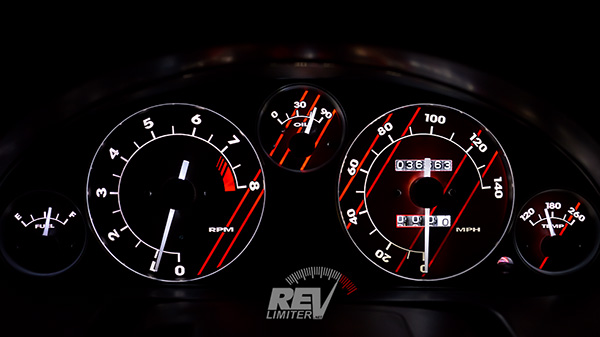 This is the white/clear lighting option with white LED bulbs. This combo gives the highest quality and most even lighting.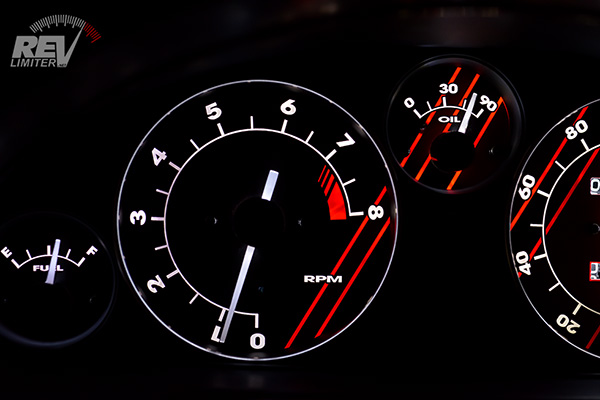 To see more
gauge backlighting photos
than you ever cared to see in your life,
check out this page
. You can order any gauge style in any color of lighting using the form above.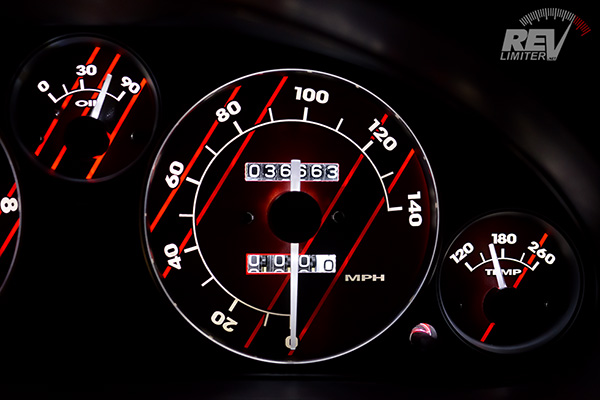 The Packing List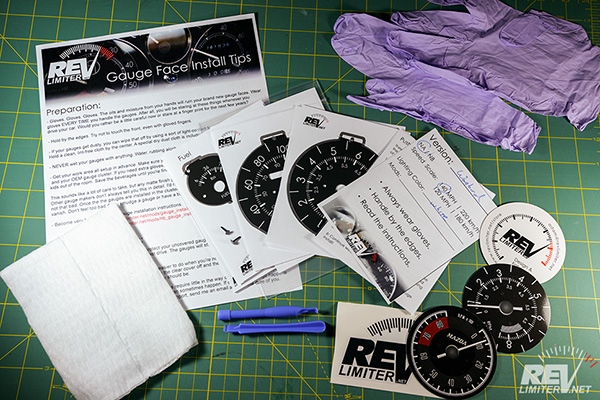 What You Get:
One (1) set of genuine revlimiter Gauge faces.
Bulb condoms or LEDs if ordered.
Pair of no-glue, push-through needle stoppers.
Pry tools to remove OEM gauge needles.
A dry dust cloth.
Pair of gloves.
One-sheet installation guidelines.
Stickers and other goodies.
What You Do NOT Get:
A full cluster. This is a set of gauge faces only.
Gauge needles. You will have to re-use your stock needles/pointers.
Please Note:
While I try my hardest to photograph each gauge correctly, I can't guarantee that your computer monitor is accurately showing the actual color of each gauge. Reds and purples are particularly hard to photograph and have the added problem of becoming richer or thinner depending on the light hitting them.
Be aware that there may be some color differences between what you see on the screen and what your installed gauges look like.

Mini-FAQ
Q: I don't understand the lighting. Explain it?
A: Lighting colors on the NA and NB can be done in three ways - with a colored bulb cover (condom), with an LED, or with the color baked into the gauge. For example, if you order your gauges with amber baked-in lighting, the gauges will always light up amber no matter what bulb you install. But if you order the gauges with white/clear lighting, you can change the night color any time you want with a simple bulb change. White/clear lets the native bulb color shine through without any tint.
Q: What's the deal with the different zero rotation?

A: Miata gauges have 2 things going for them - they're round and they're very simple. There are no computers telling the gauge where the zero point needs to be. That means that you can set the needle wherever your new face places the zero and the gauge will not have any idea that anything is wrong.
Q: What is Gen3?

A: My 3rd Generation revlimiter Gauges are made in a completely different way than the thousands of Gen2 and Gen2.5 gauges made between 2012 and 2017 (or the handful of Gen1 gauges made in 2011). Gen3 gauges are laser cut from aerospace polymer and digitally screen printed to create a dial face that exceeds OEM quality. Using spot color printing, Gen3 gauges feature extremely vivid red zones and translucent black warning lights. And digital screen printing means small changes to the artwork can be done on a special-order basis instead of being locked into an existing physical silkscreen that can't be easily changed. I'm confident when I say these are the best gauges being produced in the world today.
Q: What do I do about my airbag and other dummy lights? I need them for yearly inspection.

A: While most of my gauge designs eliminate the dummy lights at the bottom of the tach, I make a
Center Indicator Panel
that restores them in place of two unused factory lights. I can also make custom versions of any design that would rotate the zero back to the stock location and allow room for the factory airbag and headlight motor lights.
Q: Can I order these for my Civic/BMW/Suburban???
A: Not at this time. I'm only making Miata gauges currently. I hope to expand to other markets in the next few years.

About the Ordering Process
Every item in this store is hand-crafted, made one set at a time. Everything is made to your specs. There's no mass production. Because of this, there might be a short delay between placing your order and shipping. Gauges usually take a couple days to make. If there's a long wait list, I'll contact you via email to inform you of any delays.
California Residents:
California requires the following notice: Gauges may contain Bisphenol A (BPA), a chemical known to the State of California to cause harm to the female reproductive system. You can be exposed when you install the gauges. Always wear the included gloves and wash your hands after installation. For more information go to:
www.P65Warnings.ca.gov/BPA
.
Site Navigation
Latest Blog Posts
Period-Correct 90s Rear Speakers
Posted on Mon, 11 Oct 2021 02:12:26 +0000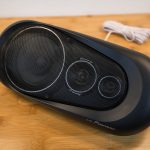 Sharka's rear package tray now holds more than just a rollbar. A set of 90s speakers is the next upgrade for the little blue and white boi.
Read more...
GV Tail Light Upgrade
Posted on Tue, 28 Sep 2021 02:05:06 +0000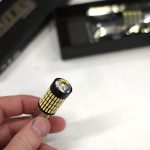 TLDR; LEDs are brighter, who knew?
Read more...
Mona Visits Joshua Tree
Posted on Sat, 26 Jun 2021 03:21:12 +0000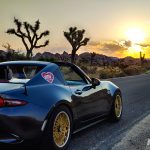 Mona checks out the curious multi-armed residents of Joshua Tree National Park
Read more...
KINOD 15
Posted on Sun, 20 Jun 2021 22:49:33 +0000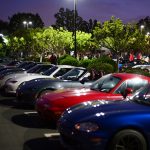 Mona and I made the pilgrimage to SoCal for the 15th Anniversary KINOD Event.
Read more...
NA Miata Ignition Switch Replacement / Refurbish
Posted on Fri, 12 Mar 2021 22:56:07 +0000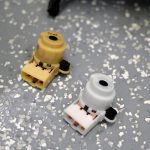 Is your NA Miata not starting anymore? A bad ignition switch may be the problem.
Read more...