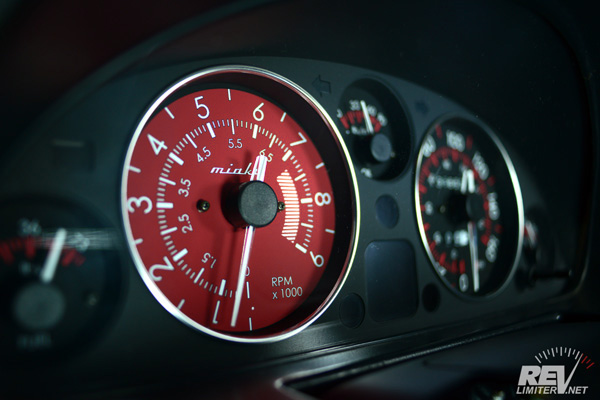 revlimiter Gauges - Modified to your own specifications.
Details
Don't like my choice of zero position for the tach and speedometer? Change it! Zero can be rotated to any position.
Standard needle rotation (zero position) uses press-through needle stoppers on most designs. If you change the zero position, you'll receive a set of glue-on needle stoppers to use with your gauges.
Move the tach redline up or down. Grow it or shrink it. Or add more range to the tach and speedo if you like. They don't stop working till about 10mm counter-clockwise from the zero mark.
Change the font style used on the gauges. You must have the font file to send me if you make this request.
Change the color of the face to something other than black. Want white? No problem! Want to match a color? That takes a bit of time to accomplish, but should be doable.
Want a different logo on the tach than is present on the gauges you like? Sweet! I've got nearly every logo Mazda has ever done. And if I don't have it, I can draw it up for you.
Price: Modifications are charged on a time-required basis. Usually these requests will add $40-80 to the base price of the gauges. It just depends on how much you want done and how many hours it will take me.

NOTE: These are OLD gauges!
All of the gauges you see here are made with my older Gen2 and Gen2.5 materials and printers. These are no longer being produced. The designs below are just to show what's possible. I cannot re-make these gauges exactly as seen.
White JNC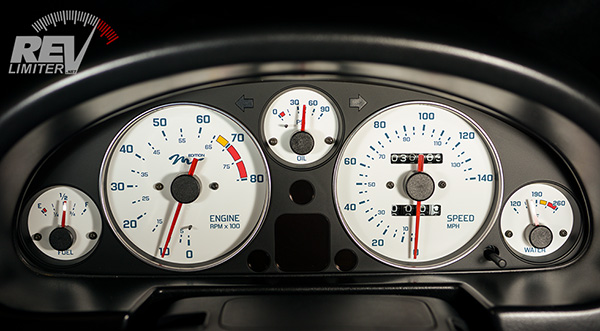 A pretty straightforward order - a set of JNC gauges with a white background.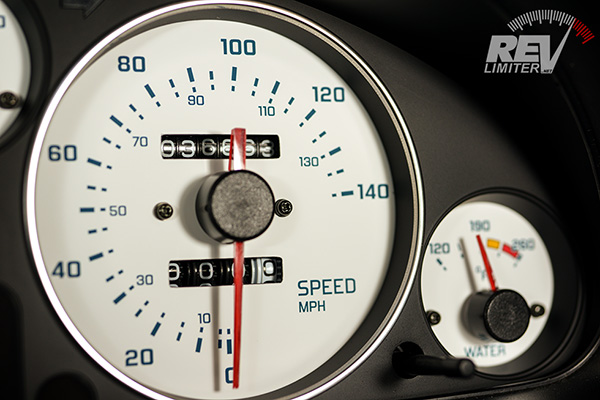 The owner was inspired by the red/white Mazdaspeed gauges of the 90s. Instead of red, he requested that I do the numbers and scale in the Montego Blue color seen below to match his car.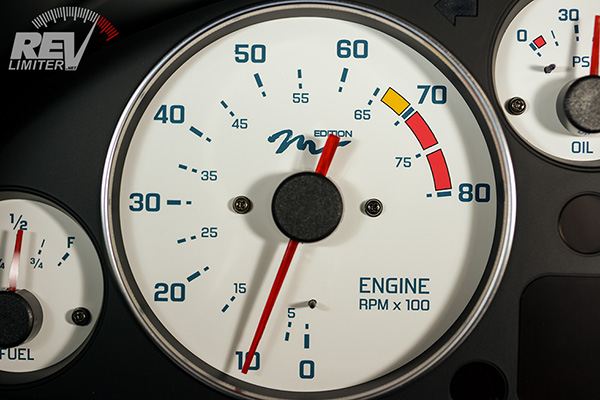 The Montego numbers came out great! Nice contrast with the white. An M Edition logo was added to match the owner's M Edition car.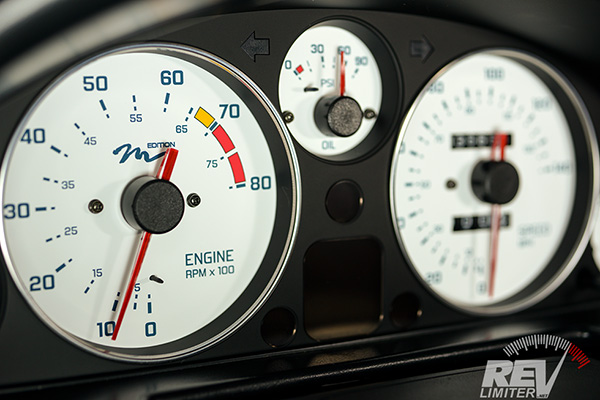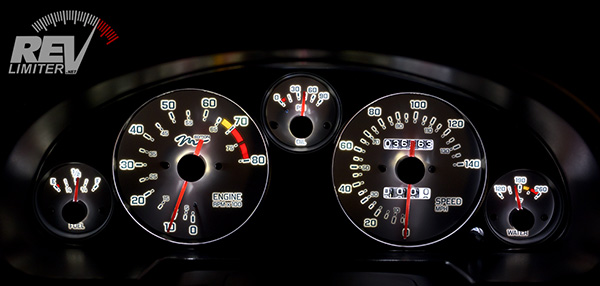 Night Mode! I did the same ghosted lighting I do on most of my light colored gauges. I didn't think the montego numbers would be bright enough by themselves. And, to be honest, I love the ghost lighting.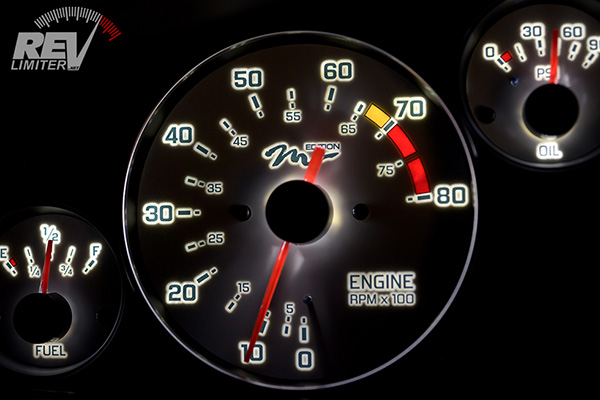 White LEDs in my test cluster with white lighting on the gauges. Noticed the red needles? I did a blog post a few years ago on
how to paint your needles red
.
Montego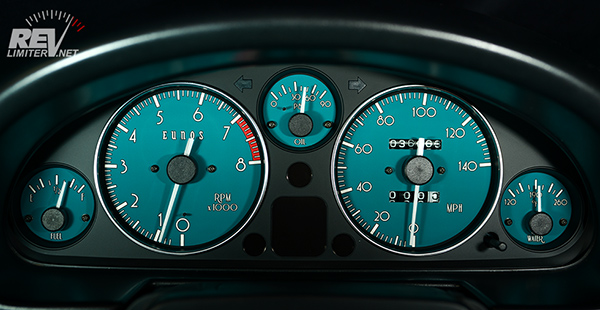 This one was a custom order for some classic looking gauges with a Montego blue-ish background. This is not an easy request. A CMYK printer cannot print a paint color like Montego. But I tried my best. I'm quite familiar with the blue/green shade. I bleed Montego, after all.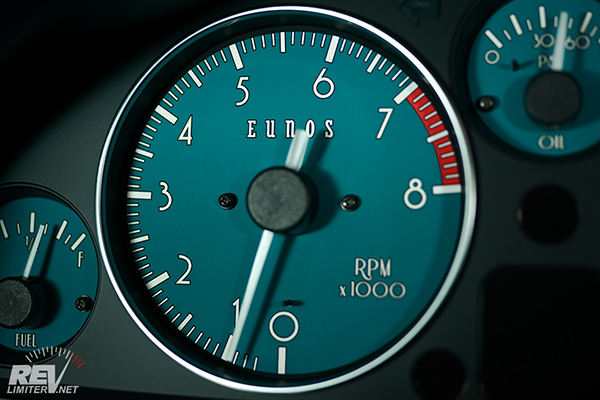 My camera really struggled to capture the color correctly. My eyes and the back of the camera never agreed. I photoshopped a bit to try getting the color right on the screen, but could never quite do it. The gauges are a rich blue with hints of teal and green.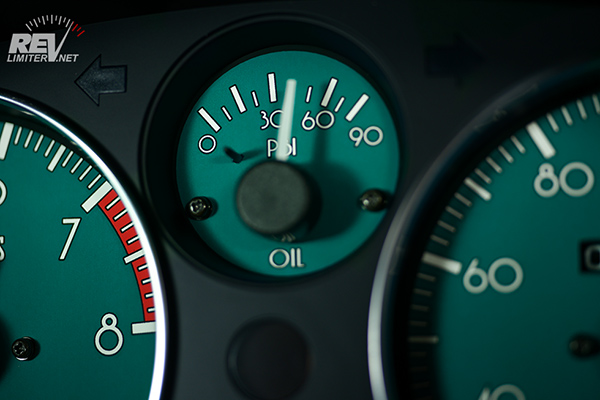 The design is a highly modified Version Fighter. I edited the Fighter scale heavily and pushed it out to the edges. The font was a classic looking one that I had in my collection.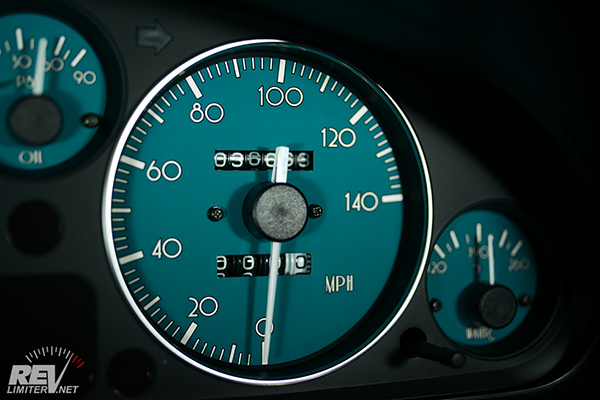 This shot gets the background color somewhat close. And it shows the vintage minimalism of the design.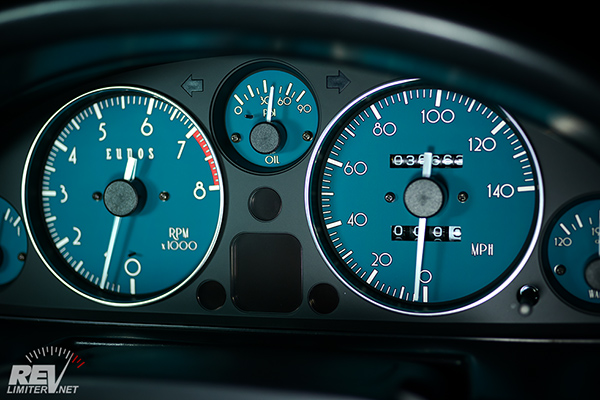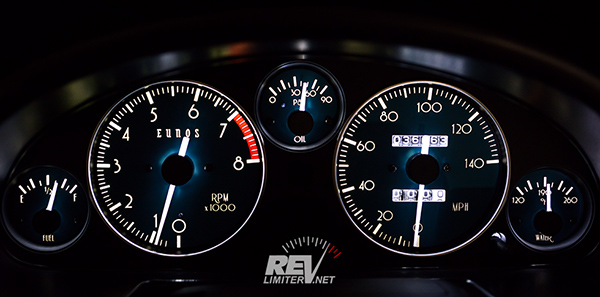 Night mode! White LEDs and white lighting. This is my favorite combo and the lighting setup that gives the highest quality results.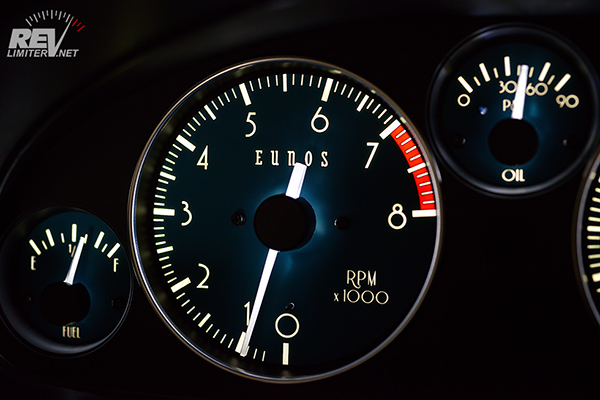 Such a great order. Thanks Bayley!
Poke-gauges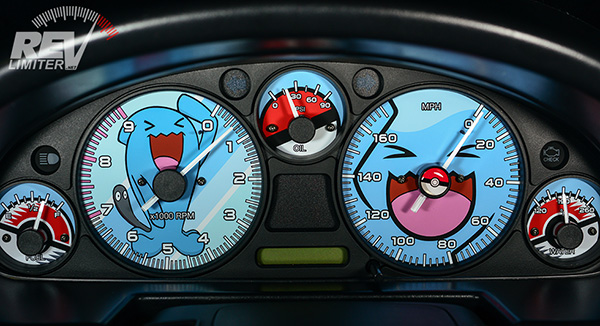 I'd never done any Pokemon gauges before. In one week I received two orders. Neither were extremely elaborate, but the finished gauges came out really great. The big one was a Wobbuffet design.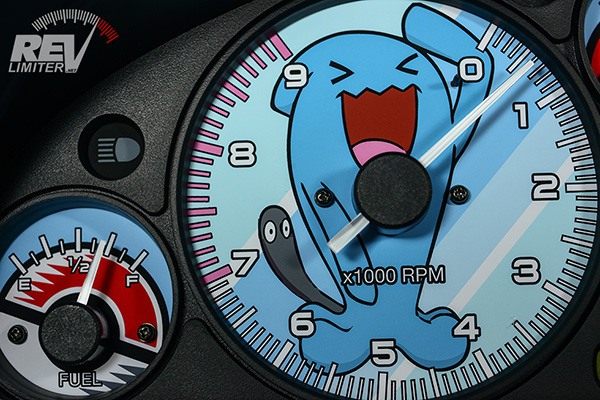 I mean seriously, can you look at this and not smile? They're at the top of the stack for happiest and most fun gauges I've ever done. Can't you hear Wobbuffet and Wynaut arguing in the background?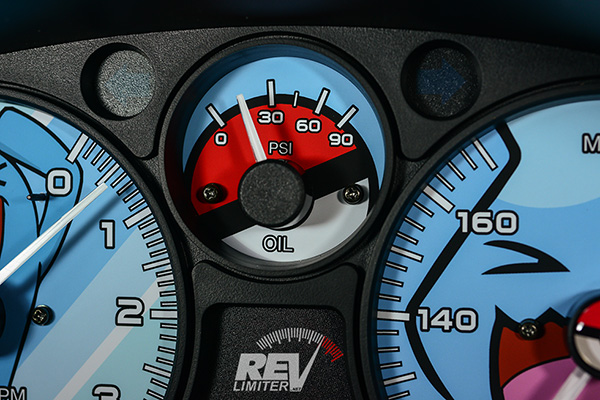 Pokeballs fill the small gauges. 'Fett blue is used throughout. The main gauge design is from my Fallen gauges.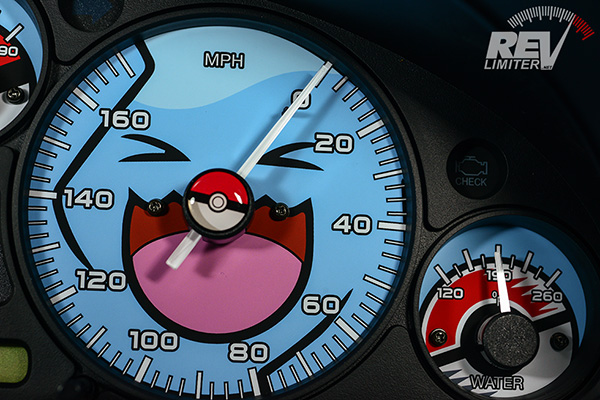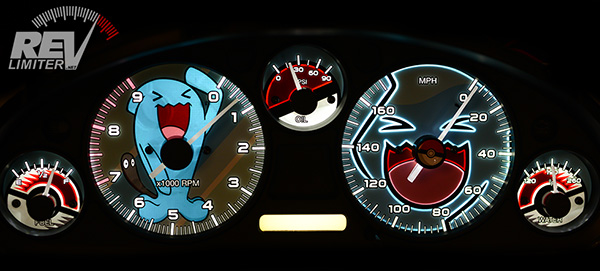 Lights on! Wy? Wynaut? WOBBUFFET!!!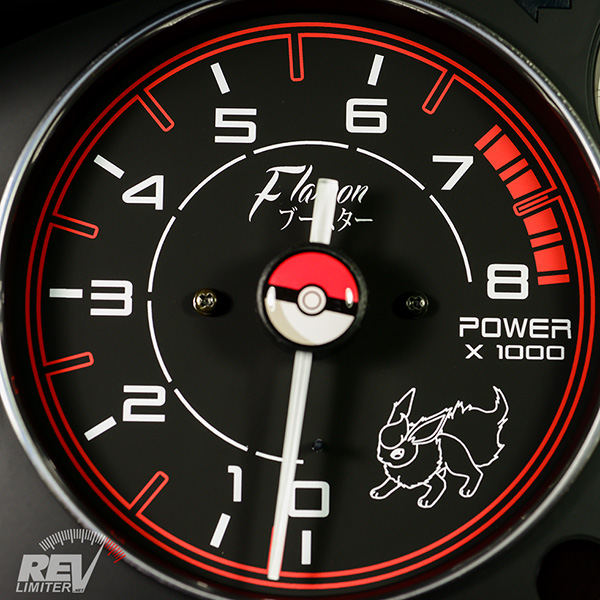 The second Poke-gauge order was for a Flareon custom. The owner's car is named Flareon and has similar colors to the little fox dude. I spent some time designing the logo and popped a traced Flareon into the lower corner.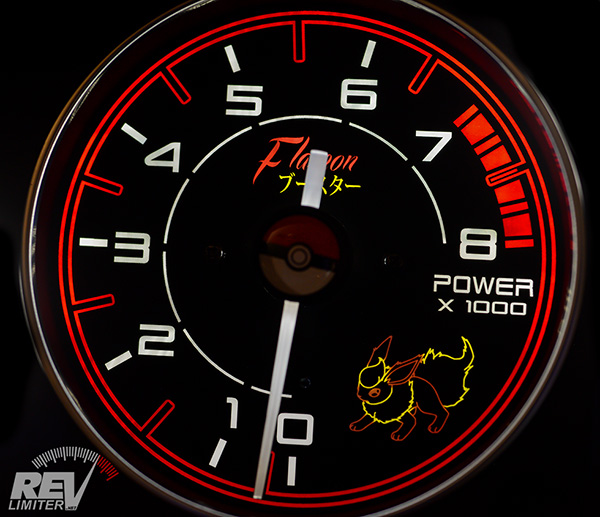 At night, Flareon's colors shine through. I'd never done multicolor lighting on a line art object before. I'm pretty proud of how it turned out.
Jazz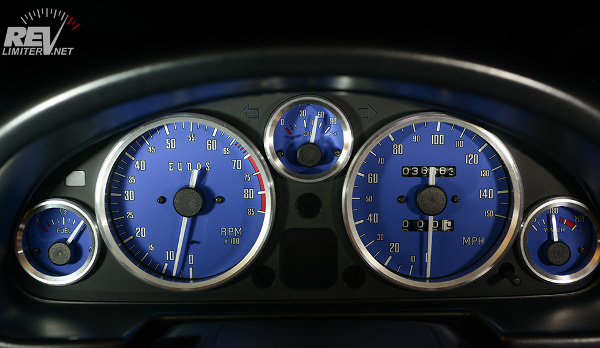 This is a second custom order for Brian's car "Jazz". This one is more custom than modified, but it's sort of a mashup between a few styles. The result, however, is completely unique.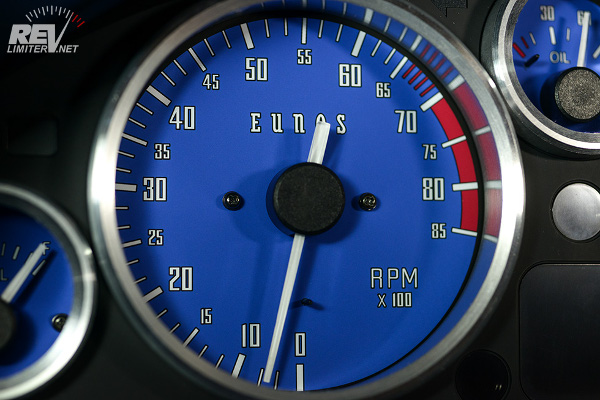 The blue background is a sort of dark royal blue. It looks almost purple in some light and like a rather light blue in other lighting. I love how it came out. The scale is unique for these gauges.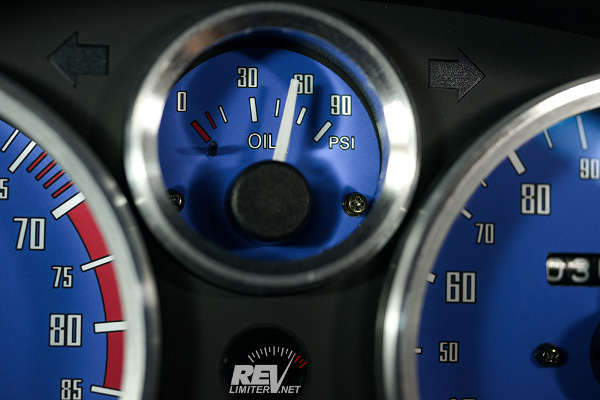 Brian has thick RS Refine rings in his cluster. I decided to use my set of Garage5 rings for these demo pix. (The G5 rings are for sale in the revlimiter Store.)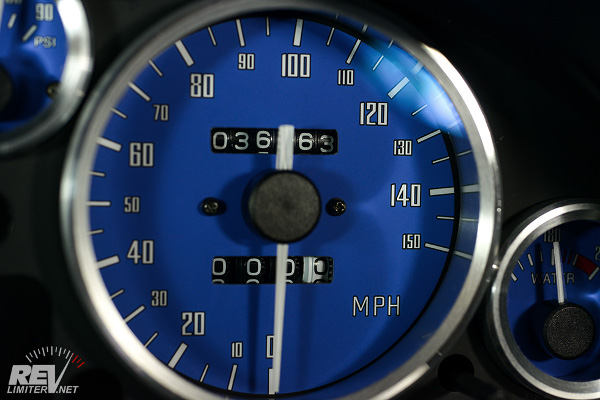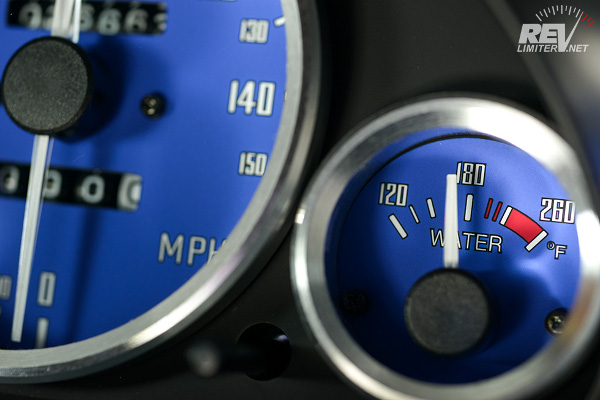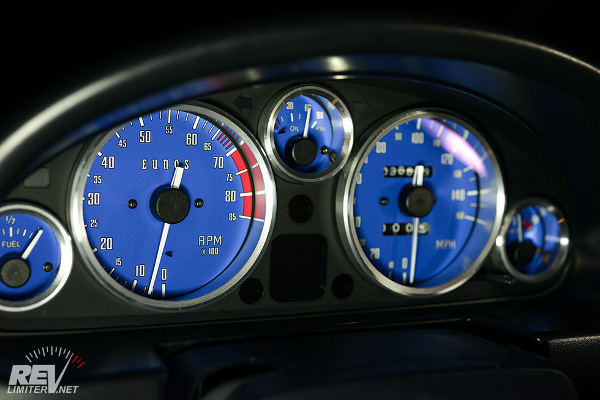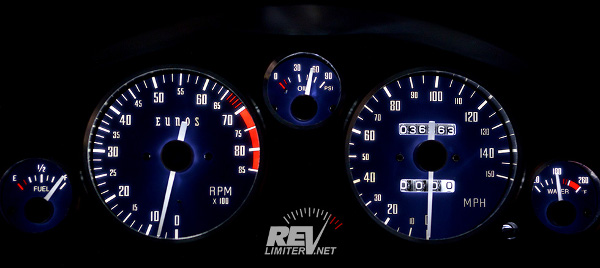 Night mode with white LED bulbs. It looks perfect IMO. These turned out awesome. Thanks for coming back for more Brian!
Tempest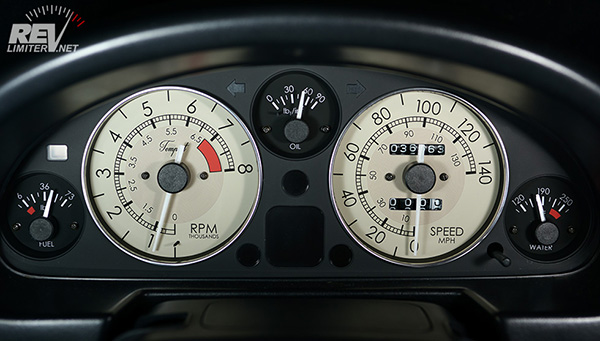 This was an order where I was told "Just design something cool," with the Warbird gauges as a starting point. I love that kind of order. So much fun for me and (almost always) a really awesome set for a customer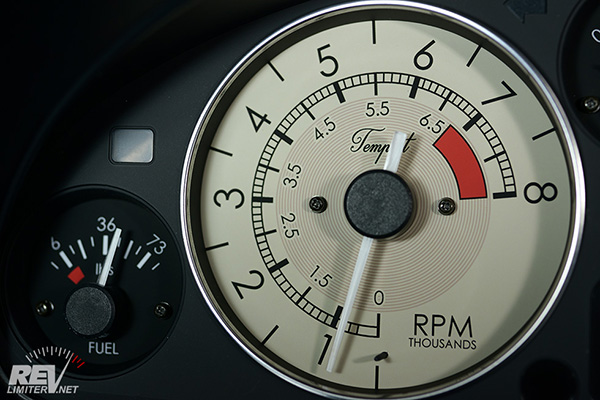 Chris has a very refined tan interior. It seemed like a "Gentleman's Warbird" was the way to go. I used the cream Model 36 color for the two main gauges and simplified the three small gauges significantly.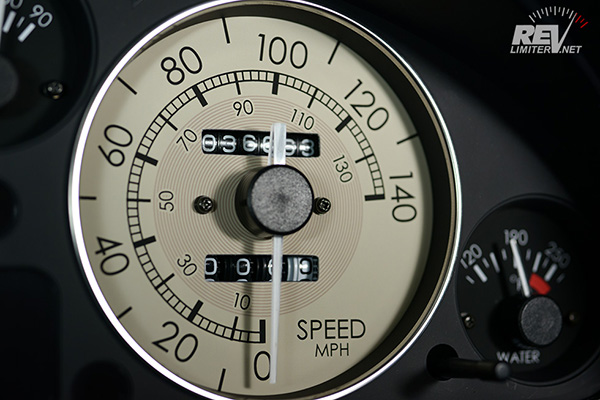 Light gold rings in the center bring depth to the faces.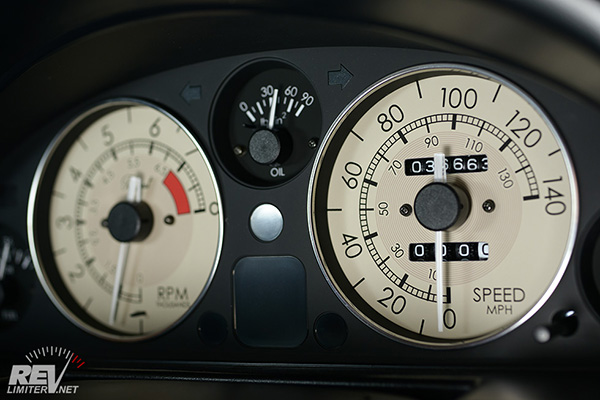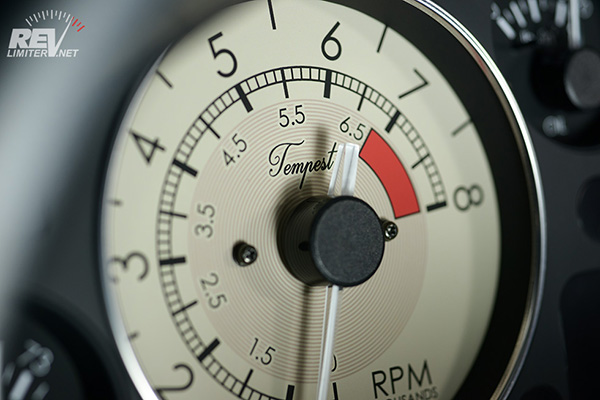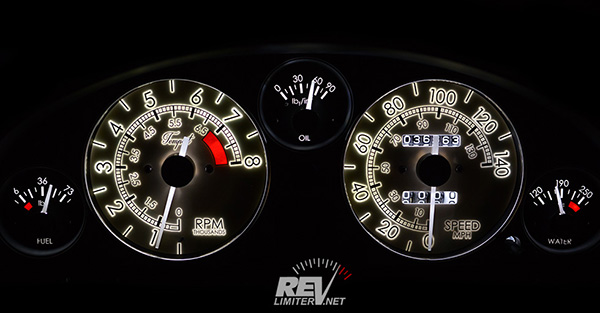 Night mode. Classy.
Black and Tan DOGE
Apparently, not all shibes are tan. They have black ones too. And the owner of a black and tan wanted a gauge set to match his pup. The black and tan DOGE you see here was mostly drawn by his GF's mother. I imported it over top of the cream DOGE.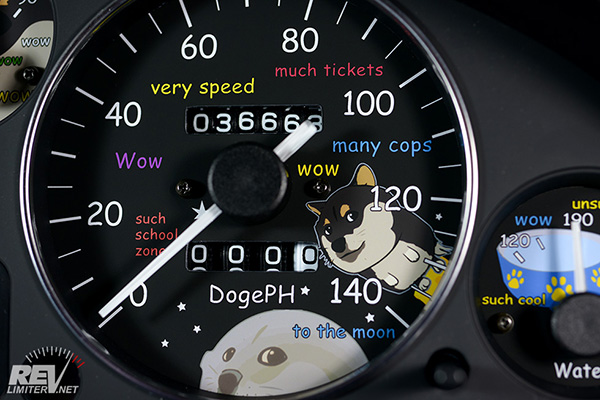 A black and tan DOGEROCKET. Such mods.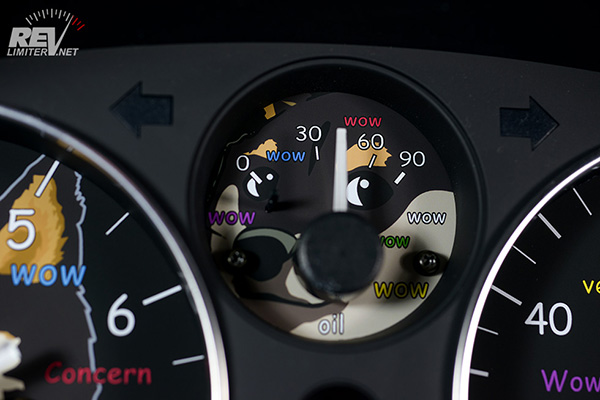 Many DOGE face.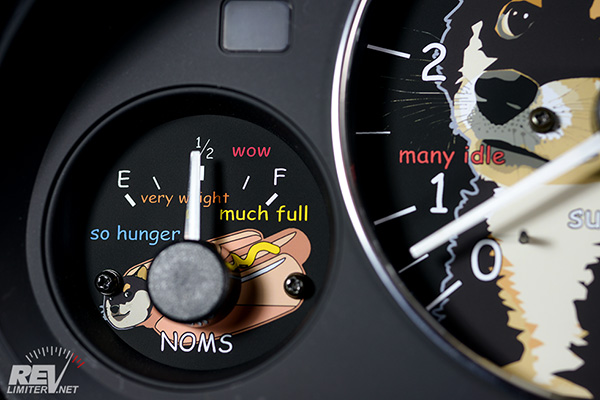 wow.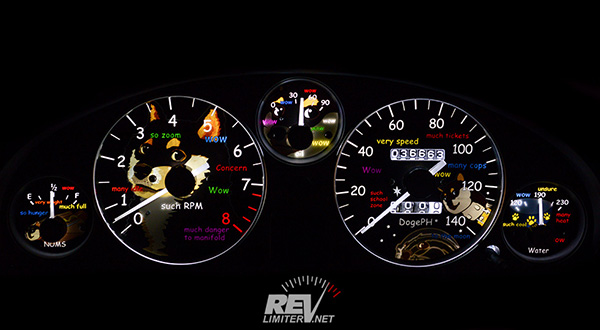 Many lighting. Such even-ness. Very DOGE. Wow.
Wonder-Woman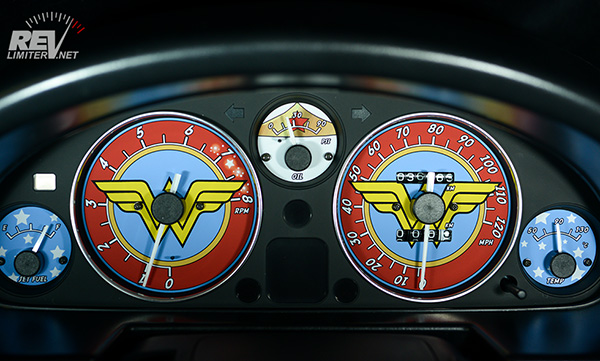 My favorite orders are the ones where I'm pointed in a direction and told to go crazy. This was one of those.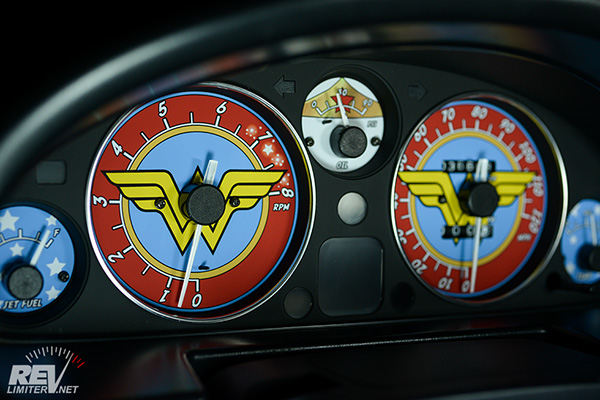 The customer wanted a set of Wonder Woman gauges for his girl's drift car. (How awesome is that?!?) He was non-specific about anything else. Just "Wonder Woman." I thought about it for a long while and considered my gauge designs. I went with the Version Zero gauges and the classic WW shield design.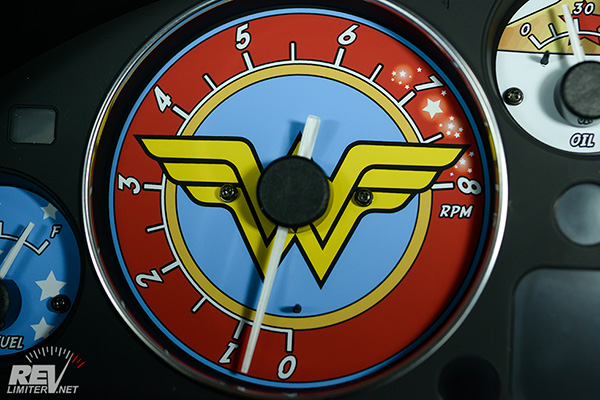 The Zero gauges fit the dimensions of the Wonder Woman shield perfectly. I didn't even have to rescale them. It was like it was meant to be. The stars signify the redline.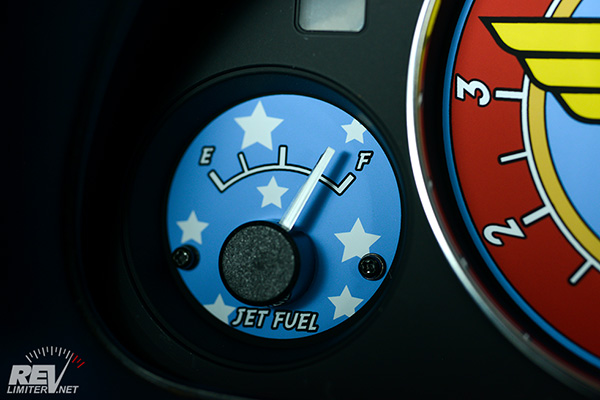 Yeah. Jet fuel.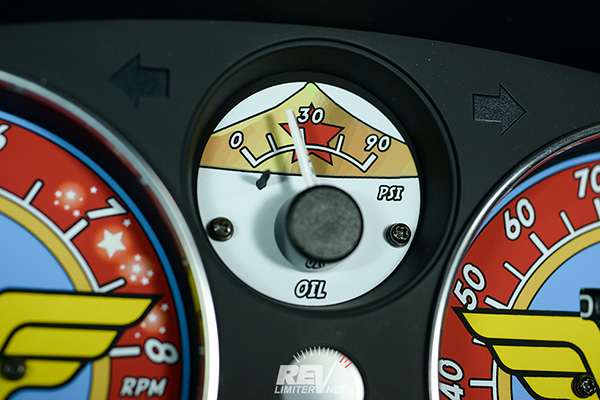 The oil gauge wanted something a little different than the blue/star background. I drew up this little tiara and it seems to fit perfectly.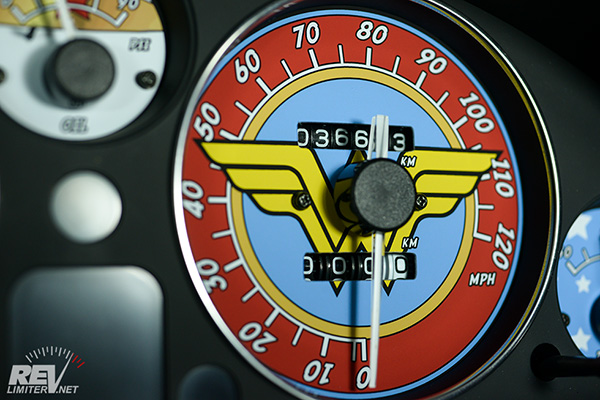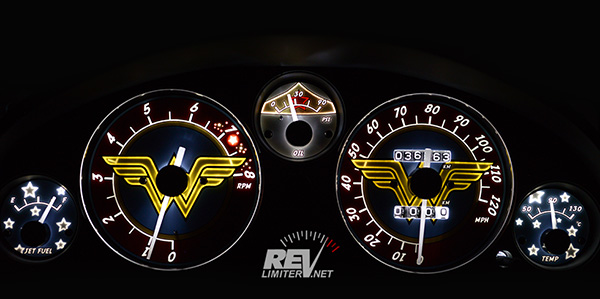 Night mode.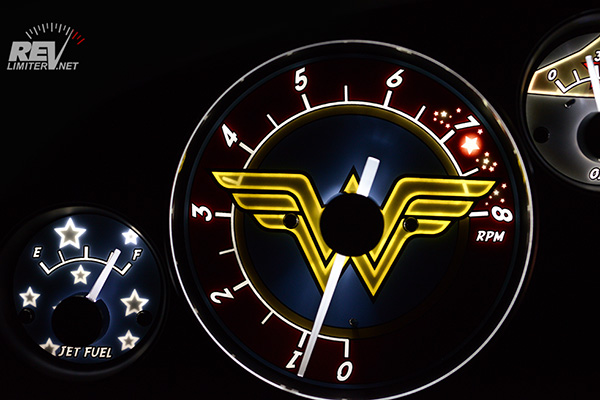 I'm beyond proud of this. They turned out SO well.
Martini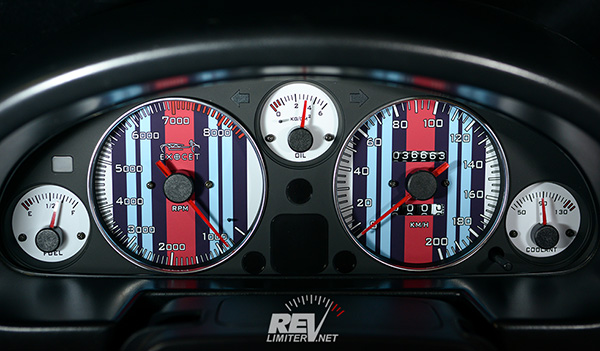 This set belongs to an Exocet in New Zealand. The owner wanted some Martini livery in his gauge cluster and the F1 gauge design.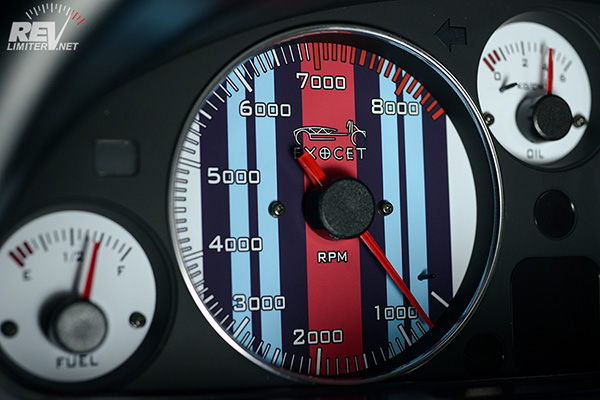 I understand that Exocet NZ liked these so much they featured them on their facebook!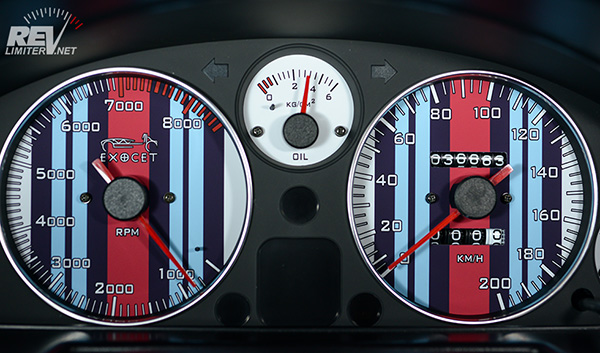 Not subtle. Perfect for an Exocet!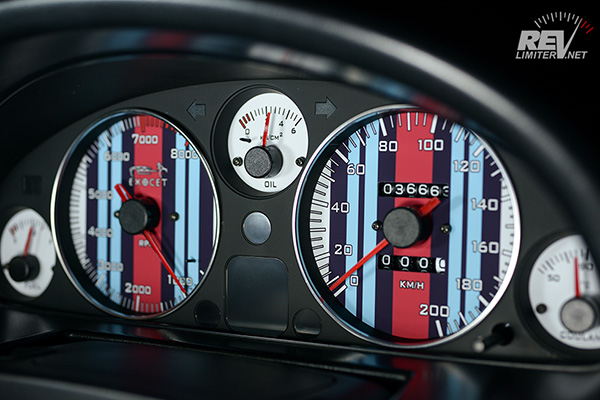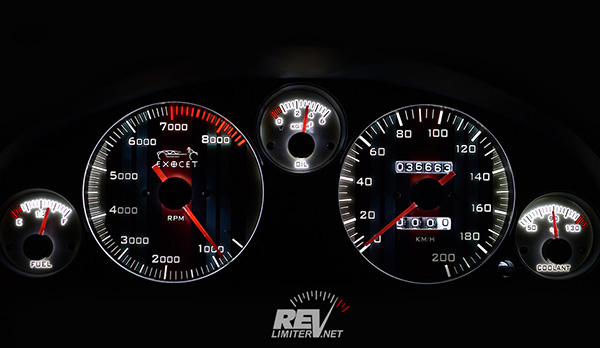 Night mode sees the Martini design blanked out and white lighting on each gauge.
Monster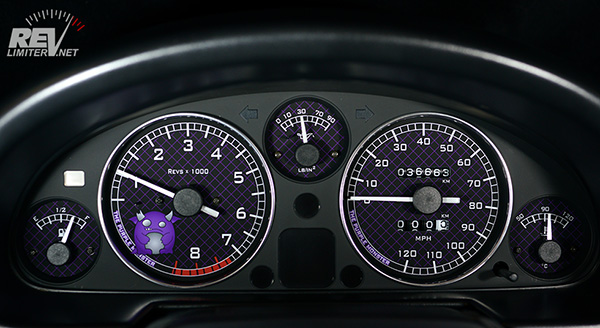 Hoodedreaper wanted a new set of gauges for his gorgeous NA. He wanted to carry his purple interior theme into the gauge cluster and even drew up his own logo for the car. I just put the pieces together.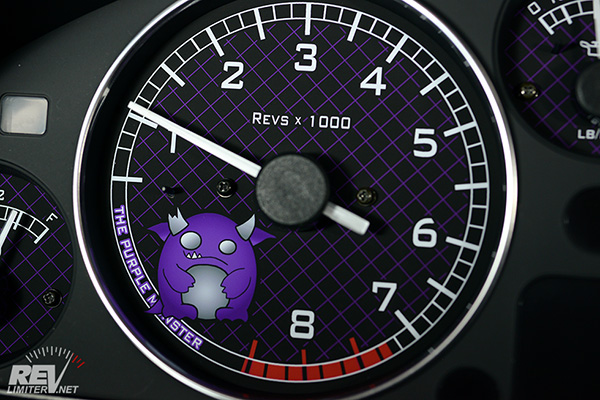 Seriously. I love the logo. I vectored it and popped it on the tach. My job is sometimes pretty easy.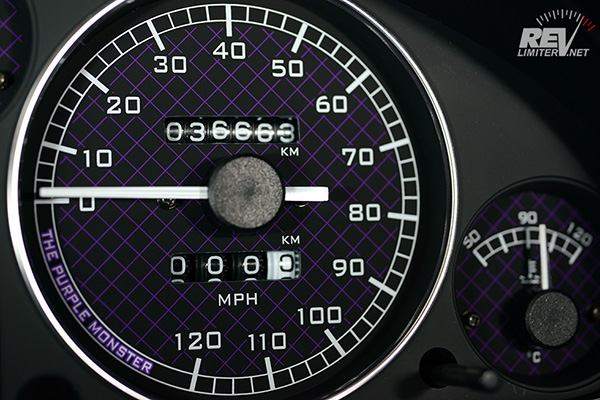 The purple diamond background is part Transformers, part diamond door card pattern. It's subtle and ties in the purple elements of Chris' interior.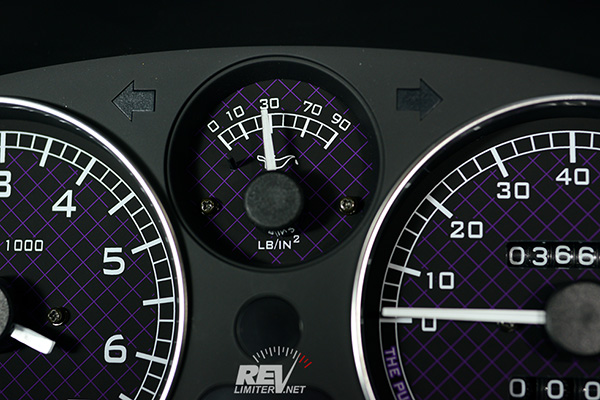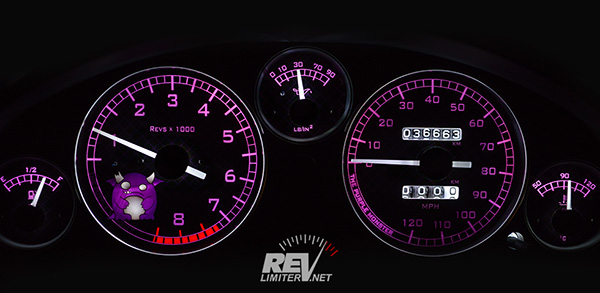 Purple lighting with white LEDs completes the look.
Lobo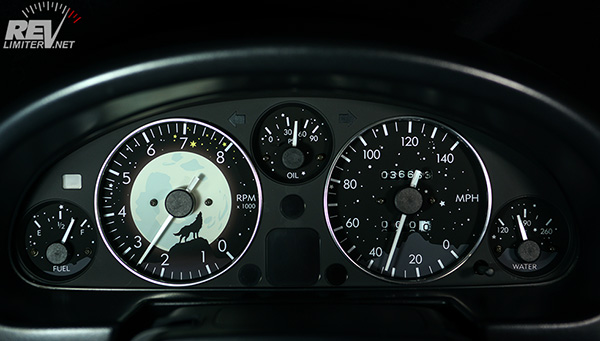 This is actually a set of Prototipo gauges. These were ordered with a wolf theme and a specific wolf logo. I worked on them for a couple hours and couldn't get anything that looked at all cool. Then I got creative.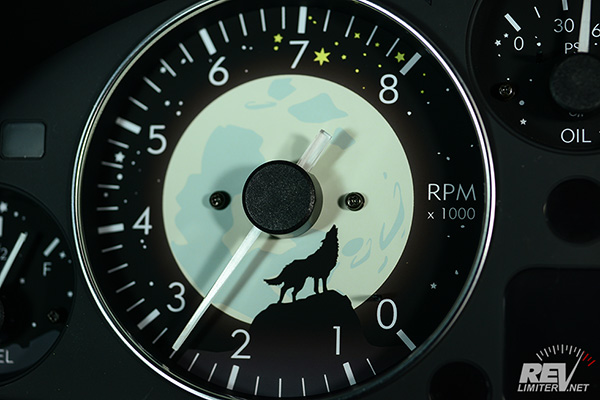 I hand-drew this wolf on a hill. I brought in one of my old moon photos and drew over top. A bit of gold and light green got the moon looking pretty. Then the stars went in.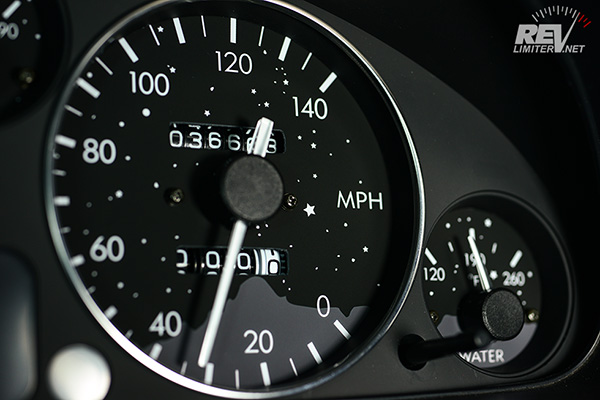 I extended the hills across the other gauges to create a night scene. The stars are overlaid on a real sky map. This is a different section of the sky than the Starship gauges below.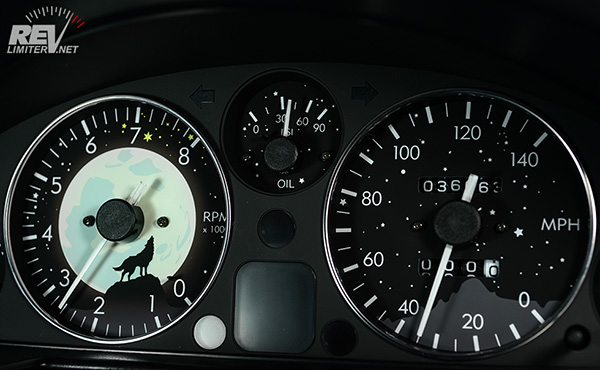 Last, I added a gradient glow behind the moon and shaded the wolf and hill accordingly. I'm really proud of the result.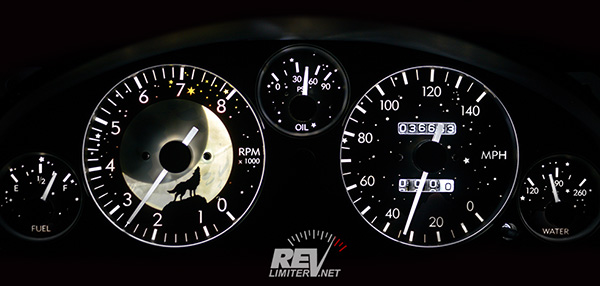 At night, the moon becomes a crescent and is dimmed by 50%. The hills fade away. Only the numbers and stars remain.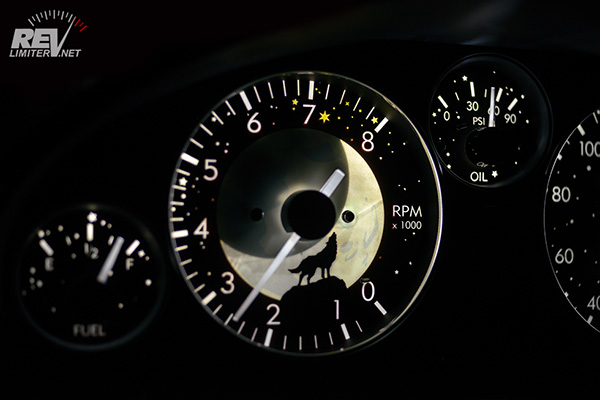 Another set of gauges that I wish I could have kept and displayed in a case...
Rising Sun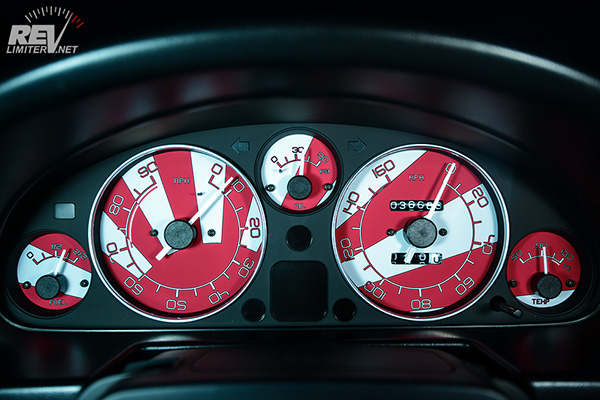 At the time, this was the most technical order I've ever received - a Rising Sun flag with the rays stretching across all five gauges. Lighting was to be outlined and complex on each gauge. White background, red flag, of course. And for the gauge design, the Version Zero style with the zero point at 1:00.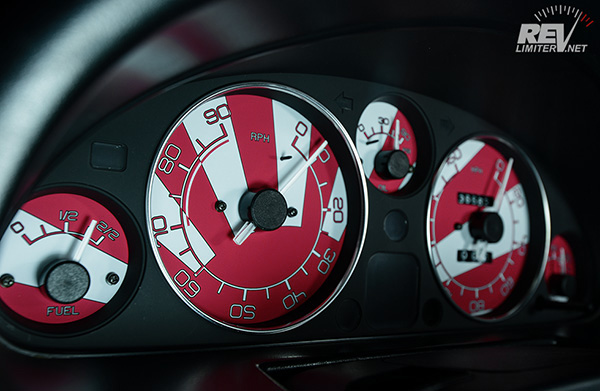 The rays stretch across every gauge. Everything lines up perfectly. Difficulty factor: 10.
A word on the Rising Sun: I realize that some folks are offended by the flag and I'm sorry about that. This is how the gauges were ordered and I was happy to fill the order. I've always been a fan of the flag design and really enjoyed getting to work on it. Did you know that the flag is still used today as Japan's naval ensign? Anyways, sorry if anyone finds this set of gauges distasteful.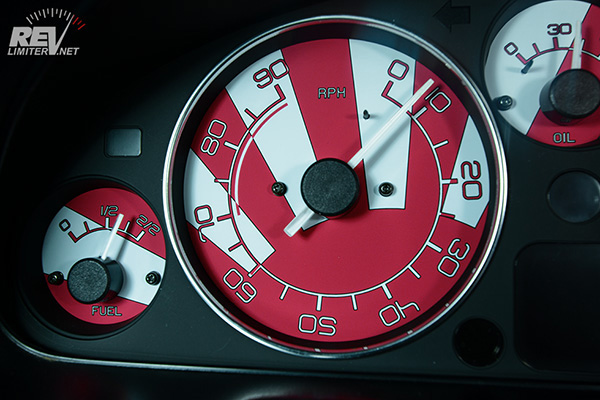 For the text color, I chose mirrored masking everywhere. If the background was white, the lettering and scale was red. For the red background areas, the lettering was white. Not easy, but very cool looking.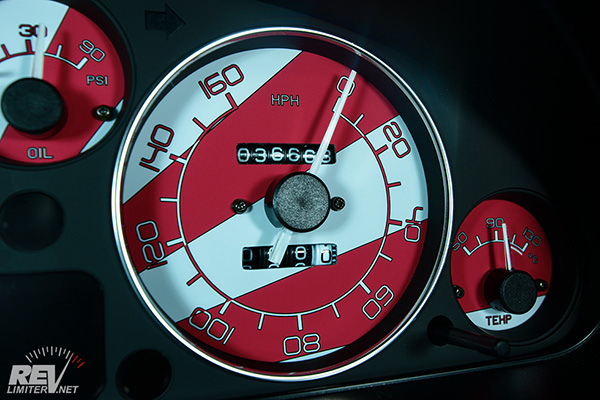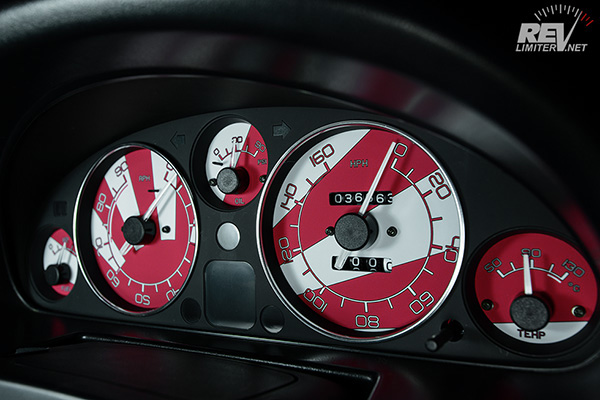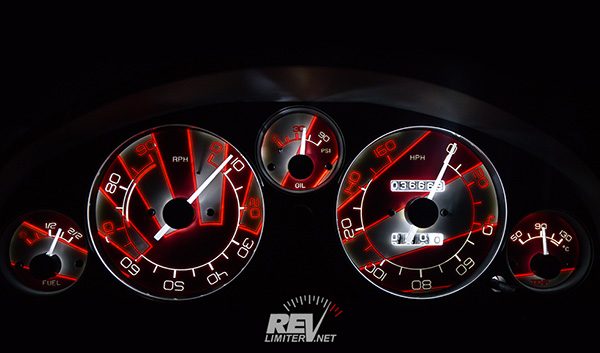 And here it is at night. Very dramatic. Light leaks in the cluster and needles just add to the overall feeling I chose not to try toning the light leaks down, but rather using them as part of the look. The outlined flag really shows how well everything links up.
Starship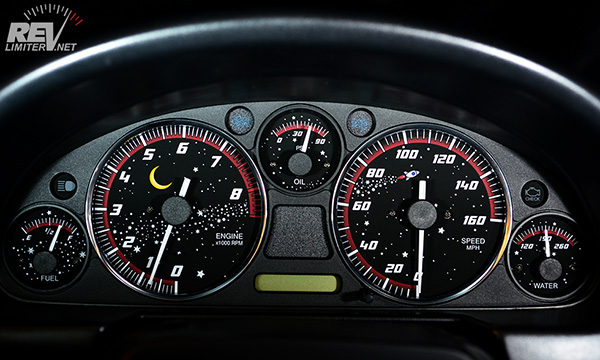 An order came in for a set of gauges inspired by the late Dewa-san's star gauges. Into the Blue, Bluestar and Stardust have always been an inspiration to me. Getting to do my own take on those masterpieces was pretty wonderful. I started with my 10AE gauge set and worked from there. These were going in a Mazdaspeed NB and the customer requested some red to match the highlights in his interior, so the blue outer gradient became red.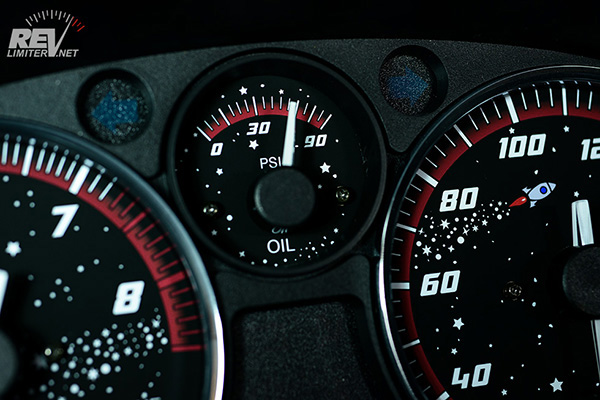 I immediately knew I wanted to put a rocket on it. A vintage cartoon rocket. I quickly drew it up and started on the star trail. I'd never designed an element that would flow across multiple gauges, so I had to measure the cluster layout and redo my NB template.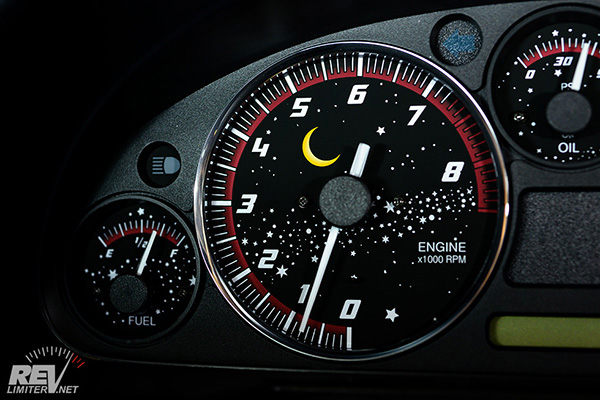 The background stars not in the trail are actually from a sky map. I started with randomly placed stars but they seemed off. When I put an actual sky backdrop and repositioned things to match, it was like the whole set came into focus.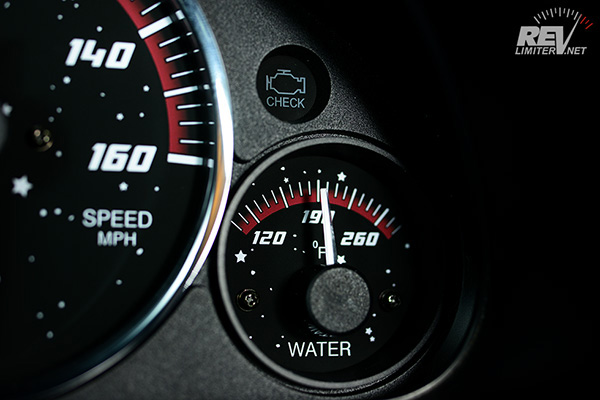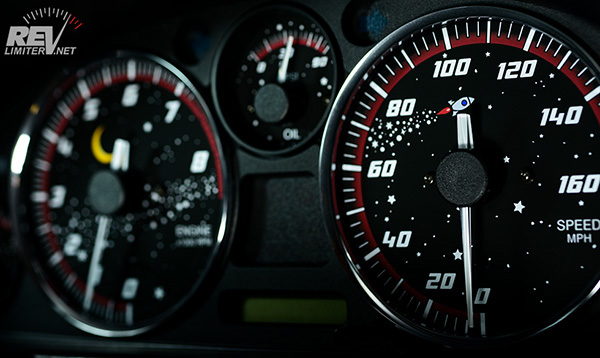 I hope the late Dewa-san would approve of my tribute to his beautiful work.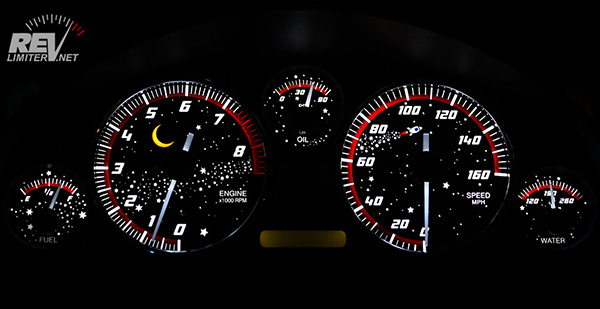 And here are the stars at night, lit by LED bulbs from superbright. The lighting is very even across the whole face. I'm rather proud of it.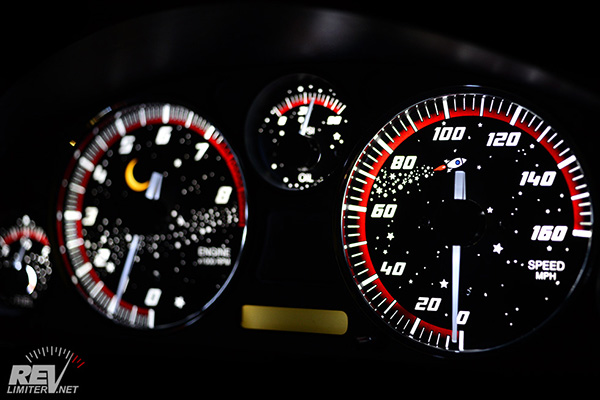 Starships were meant to fly.
Golden Era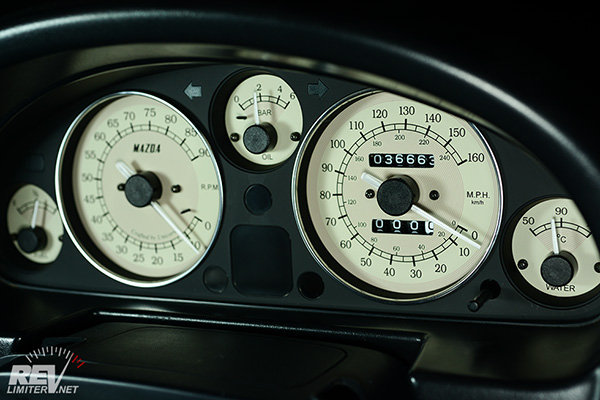 A set of Model 36 gauges with a 4:00 zero. Would that make them a Model 34? Also a few small changes.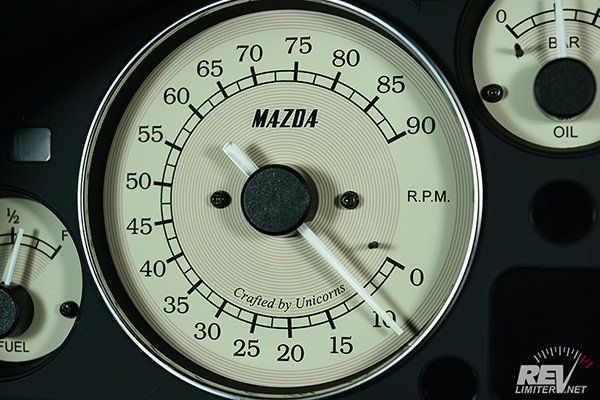 The golden arcs really bring this set back in time and gives the gauges a lot of depth. The "Crafted by Unicorns" was a request by the owner.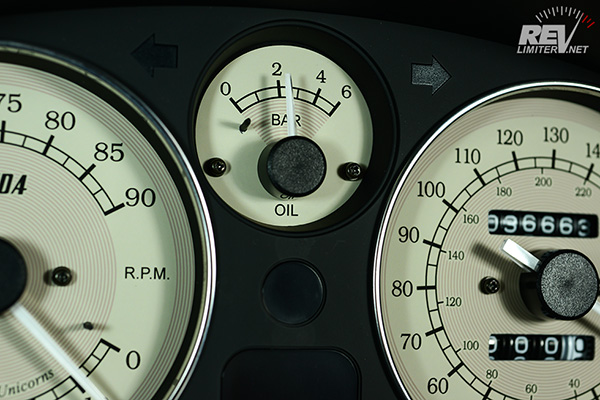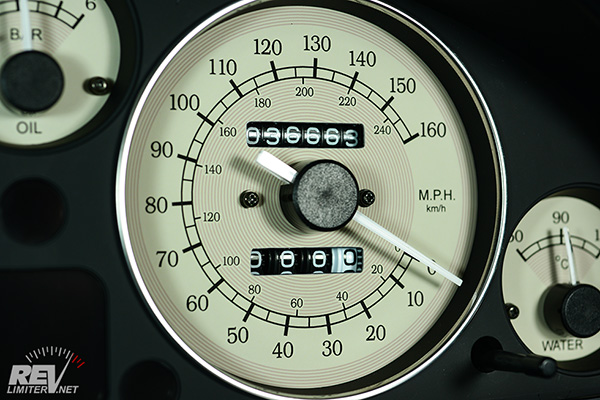 I'm especially proud of the dual scale. It looks very natural.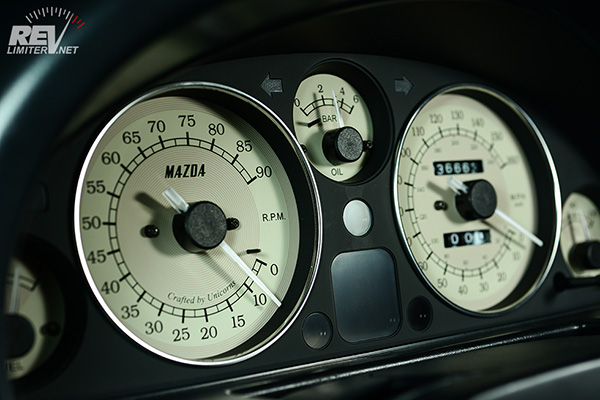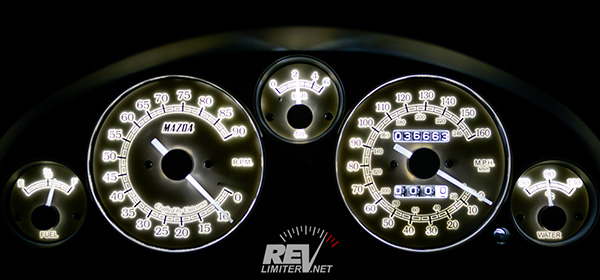 Domo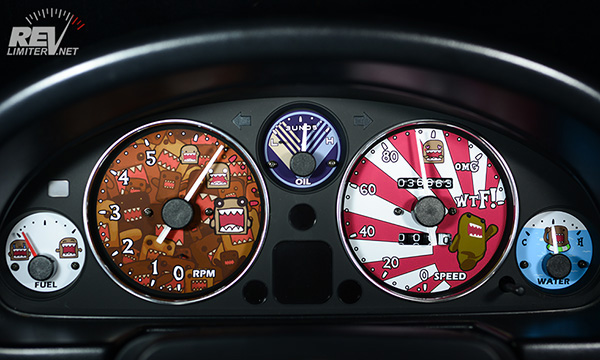 This one is a modification to the Kitty gauges I made for Brooke. The request was for some Domo gauges. I was told to go nuts.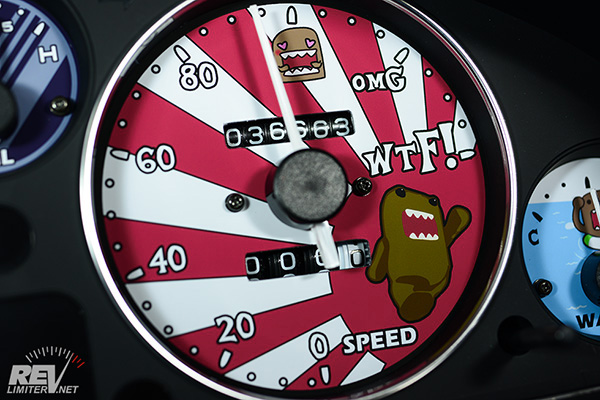 I went nuts. The WTF! mark was the part that got the most revisions. I started out with something small and... underwhelming. The big WTF really makes the gauge pop.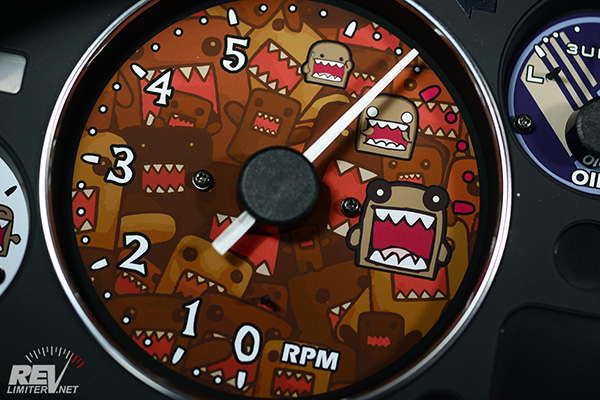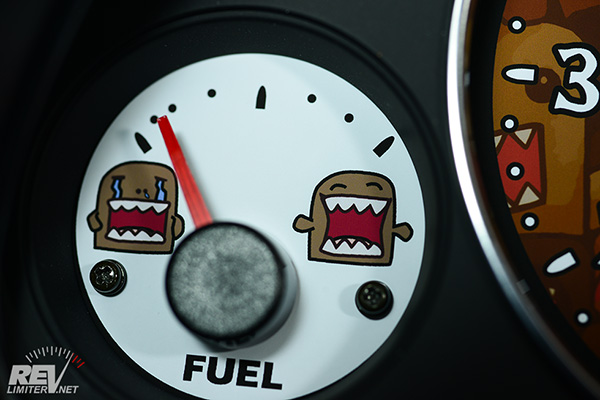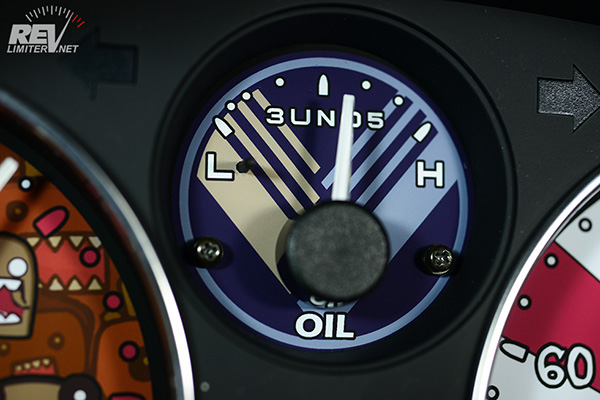 The customer goes by "3UNO5" online and asked for that on the oil gauge. I put it in front of a flying V badge. It looks quite lovely IMHO.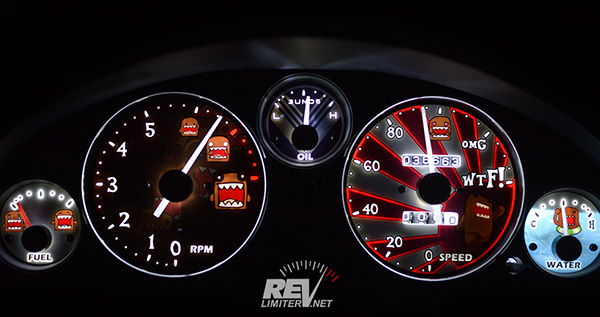 Night time Domo insanity.
Spyder LE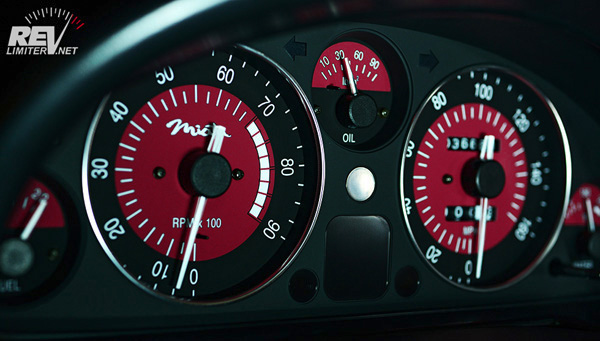 A set of Spyder gauges ordered with a red interior instead of white. That was really the only change. I then did a lot of work getting everything else just perfect to match the red insides.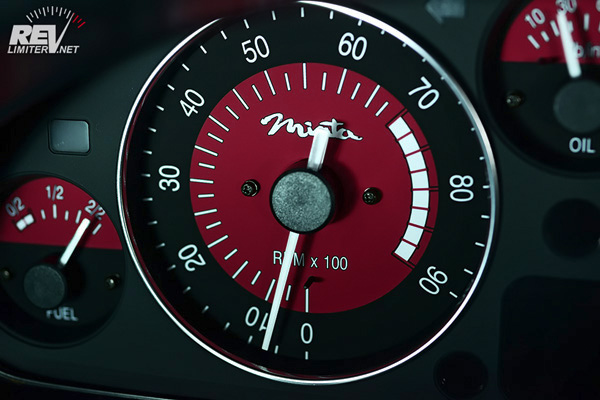 Really proud of the redline with the thin black outline. I'm really proud of the whole design. I've been trying to come up with something suited to the 93LE interior for years. This is as close as I've ever come. I think this will evolve into a full set of gauges.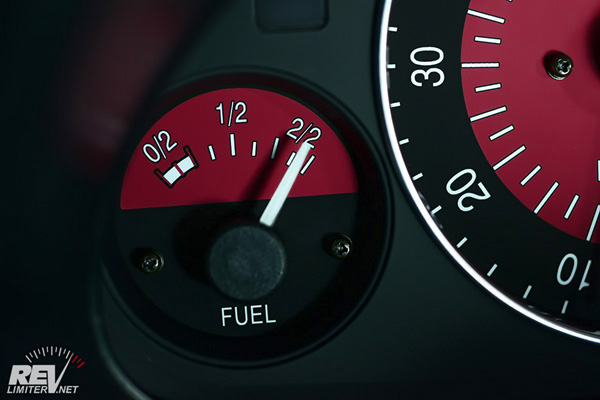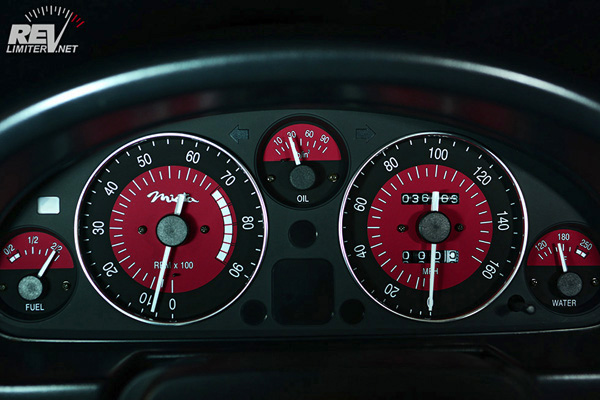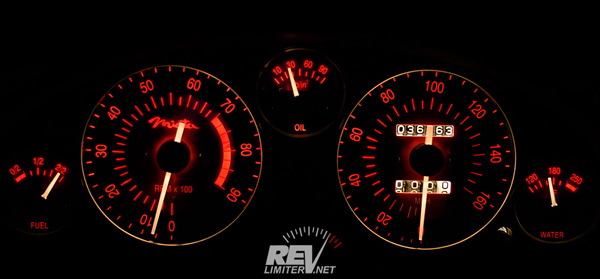 The gauges were ordered with red lighting. It looks fantastic and matches the day mode perfectly.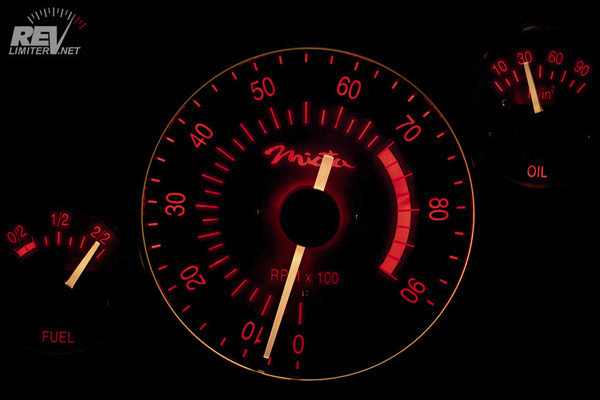 Miaka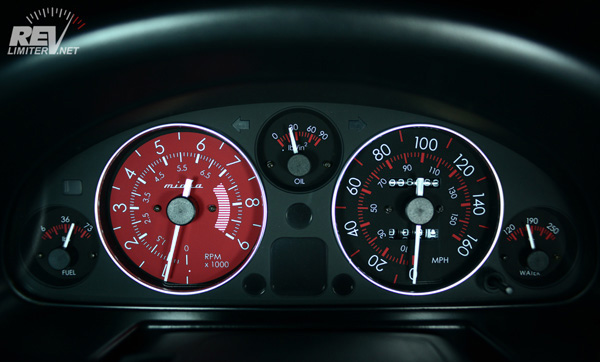 My buddy Anthony ordered this special set of gauges for his prize winner "Miaka." An LE-red tach and some red highlights in the four remaining gauges.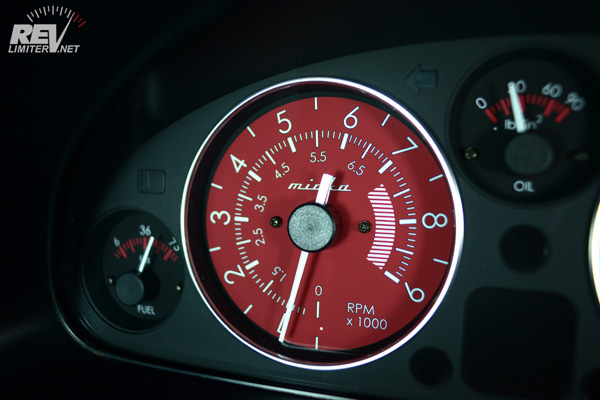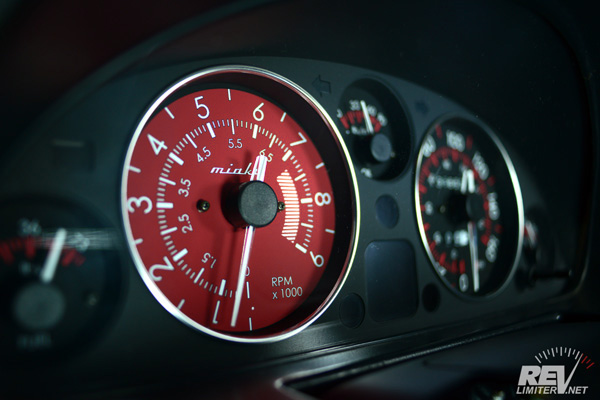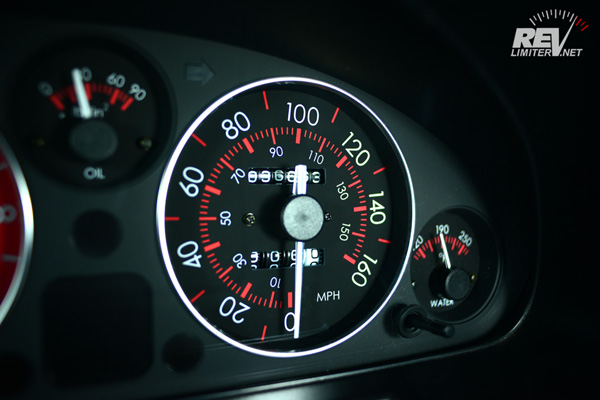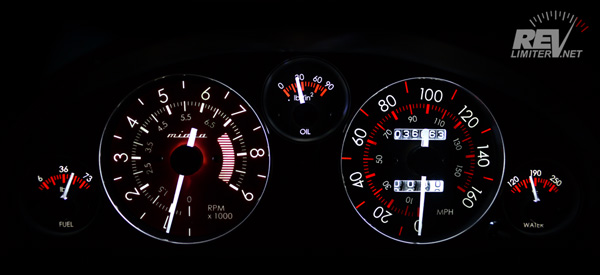 I worked pretty hard getting these to light up well. I remade the tach three times. The results are worth it. The lighting is as close to perfection as I can currently achieve.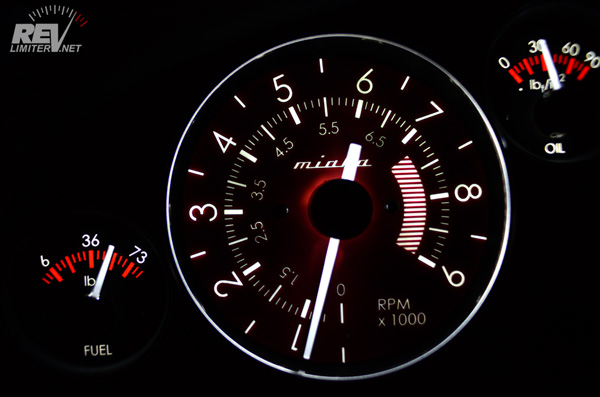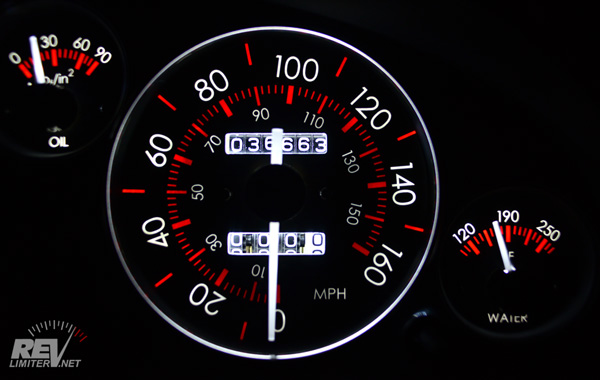 Danny George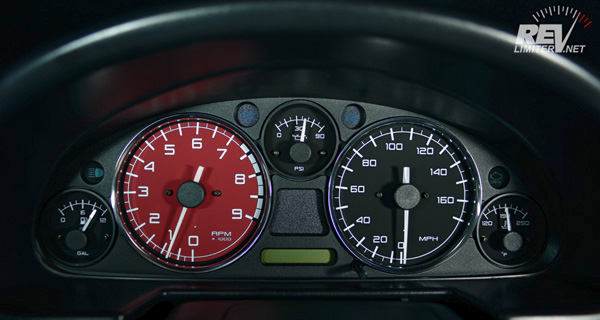 Danny George is a Miata legend. He ordered gauges from me for his NB. He pretty much told me to do a red tach and make it cool. This is the result.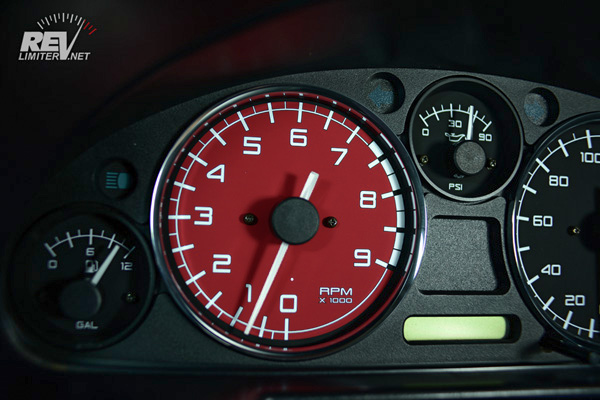 Sunstorm with a red tach and some detail work to make it pop.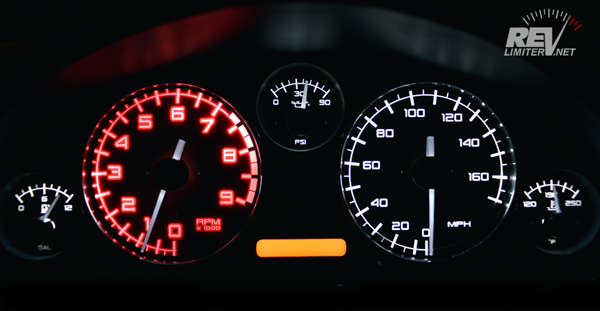 Danny wanted the tach to also light up red. I gave it the standard Sunstorm ghosting and dimmed the numbers a bit. I think it worked pretty well.
Supersonic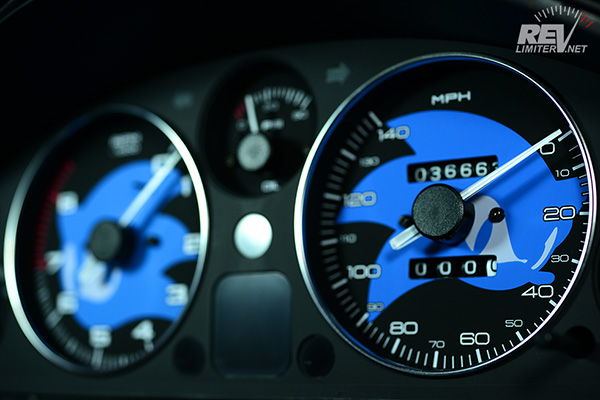 An order for some Sonic-related gauges came in. The scale is from the F1 design and most of the text comes from FC.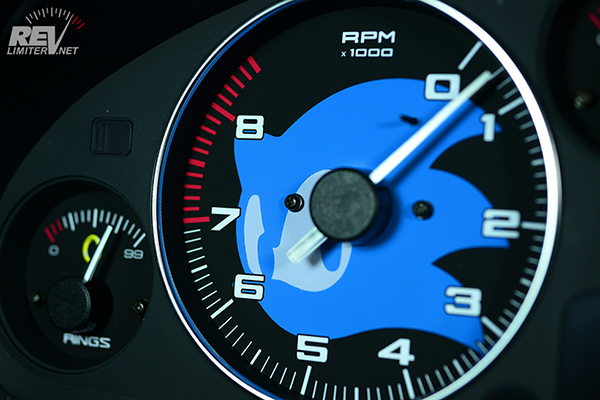 Classic Sonic on one gauge and Modern Sonic on the other.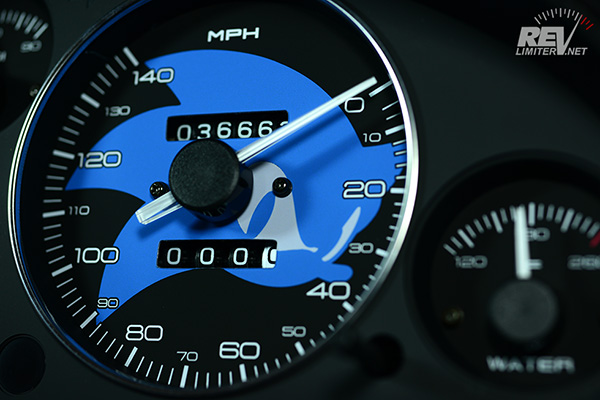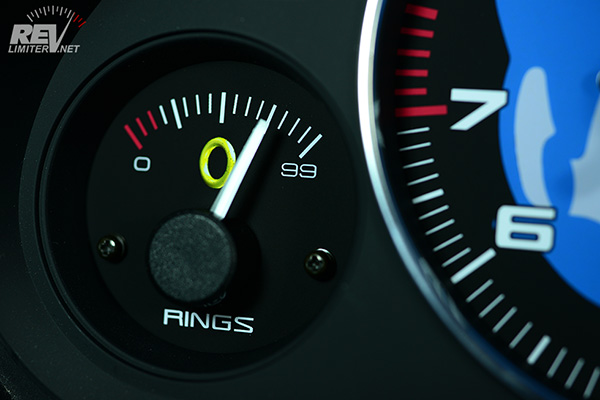 Rings for fuel. It's a shame the ring can't rotate.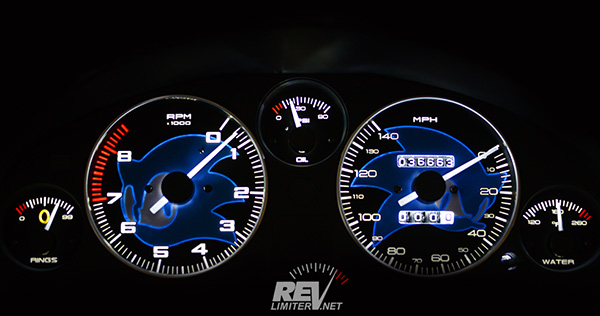 About the Ordering Process
Every item in this store is hand-crafted, made one set at a time. Everything is made to your specs. There's no mass production. Because of this, there might be a short delay between placing your order and shipping. Gauges usually take a couple days to make. If there's a long wait list, I'll contact you via email to inform you of any delays.
California Residents:
California requires the following notice: Gauges may contain Bisphenol A (BPA), a chemical known to the State of California to cause harm to the female reproductive system. You can be exposed when you install the gauges. Always wear the included gloves and wash your hands after installation. For more information go to:
www.P65Warnings.ca.gov/BPA
.