Yes, another one. What can I say? I'm addicted to steering wheels. I guess there are other vises I could have. Actually, there's vices I'd LIKE to have. I'd like to be addicted to rare, vintage Japanese wheels – the kind that come in fours and get wrapped in rubber. I'd like to have a tire rack full of uber-rare wheels and rotate through them monthly, but I honestly don't have the cash for that. I'd also not mind being addicted to old Japanese cars, but I don't have the garage space for that.
So, steering wheels. Old ones. Like this one.
This is a Momo Prototipo from June of 1978. I'm about a year older than this wheel. (About half of you are now going "holy crap you're old!" and the other half are saying "damn, you're a youngin'.") It might not be that old for a human, but it's pretty well aged for a car part. This wheel is a survivor.
It was originally installed in a Dino 246 GTS. (insert drool here.) The owner had a ton of Dino parts on ebay and was apparently getting out of the game. He also had this steering wheel (no Dino horn button). I put in an offer. I crossed my fingers. A few days later, the wheel was mine.
This wheel also has a very interesting feature. Trait? Aspect?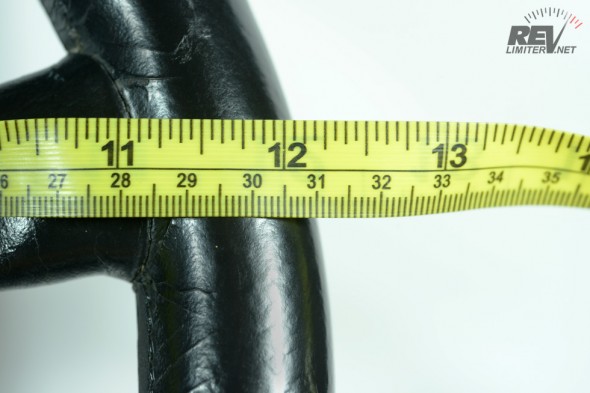 It's really really small. 310mm in diameter. That's… not large. The OEM NA wheel is about 370mm if I remember right. Most of the steering wheels in my collection are 360mm. 350mm seems to be the most popular size to put on a Miata judging by the message boards. And it seems like 99% of all Momo Prototipo wheels made are 350mm.
This one is 310. That's really really small. I had never actually seen one this small. Ever! At the time of this writing, there's a 2nd one on ebay in 320mm. If I hadn't already purchased the one you see in the photos here, I'd probably be bidding on that one.
This wheel also features a nice, thick grip. The grip is my #1 beef with the Momo Prototipo sold today. It sucks. It's thin and vague. I got my 2009 Prototipo and was all excited because I'd heard such great things about it. And over the course of a year, I slowly grew to… well, not like it. The grip on this 310mm model is only 1/4″ larger in diameter, but that really makes all the difference. It feels meaty to hold. It is easy to grab. It doesn't immediately promote hand fatigue.
This wheel is lovely.
So. Let's recap.
Old.
In a rare size.
With a nice, thick grip.
In decent shape.
And really really tiny.
The tiny size meant not being able to really see my Barcode gauges. The speedometer was cut off right above the odometer. The oil gauge was barely visible at all. I drove to work and back and had no idea how fast I was going around town. Everything from 10mph to 80mph was blocked.

I just installed them a few months ago, but now, my pretty gauges weren't very useful. Something had to be done.

I designed a new set of gauges that very night. Something that would allow me to see most of the speed and rpm scale. Something simple. Something that would complement the design of the Prototipo wheel.

I call these gauges "Version Prototipo."

I often type things like "this set of gauges took me MONTHS to design" and it is often true. But not this time. I put this set together in about 2 hours. I started out with my 1028 gauges and started simplifying. Everything that didn't help with usability was stripped away.

Simplify. It echoed in my head while I clicked the delete button. Simplify, simplify, simplify.

I took note of exactly where I couldn't quite see the rpm and mph scales on my previous gauges and rotated the scales on this set. Zero on both large gauges is juuuust barely hidden by the wheel. Those with smaller wheels might need a bit more rotation on each gauge, but this works perfectly for me.

I extended the scale a bit to make the tick marks nice and long. I added the yellow km/h scale on a whim, lifted straight from my GT-40 gauge set. Everything came together very easily and quickly.

I also lengthened the tick marks on the small gauges to be about as long as possible. This lets me see the oil pressure reading. Though I still have to dip my head a bit, it's better than not being able to see it at all.

Last, I added the red zone. The orange/red is in homage to the Dino 246 gauges. I not only liked the style, I also was impressed by the dual-temp redline. This lets me rev into the orange and shift before the red.

I slept on the design. In the morning, I had nothing to change. I made the gauges up, and then took my little girl for a long drive in the mountains to test them out.

We drove about 200 miles. Lots of highway, lots of rural roads, and a 5000 foot elevation change over 14 miles. We drove, me and my daughter. We vroomed. We hiked and explored. We drove more. Someone constantly shrieked "SHARKA SHARKA SHARKA!!! BOOST!" though I will not share who it was doing the shrieking.

It was great! The wheel was great. The gauges were great. It was the perfect test drive for both of the new parts.

My plan is to keep these gauges around. Once another design appears in my head, I'll remove these Prototipo gauges and put them in another pod. Then, whenever I put this small steering wheel back in Sharka, I'll swap out the gauge pod as well. It's not much work to do that. Maybe 15 minutes to swap one gauge pod with another.

By the way, the gauges are not yet in my store. They'll be up for ordering probably this weekend. I'll update this post with a link.

This tiny Prototipo has already earned a spot in my permanent collection. It has such presence. It's so enjoyable to hold. It lives up to everything I ever read about the Prototipo. I just love it.

I just wish Momo still made them like this.

«