"Brothers don't shake hands; brothers hug!"
It all started with a vibrabeep on my phone.  Steve texted to let us know he was 45 minutes out.  WOOT!  It was time for Adam and I to pack up and leave the air conditioned revlimiter basecamp and put a much needed end to a viral friendship.  As we were packing up I commented on how much quicker he got to ABQ than expected.  It was only when we all gathered at the hotel that we realized he was right on time.  Crossing into Mountain Time Zone shaves an hour off the ETA!  After several minutes of hugs, smiles, stories, and photos it was off to grab some much needed dinner and drinks.  But before we could reward ourselves with a meal, Rooster deserved a much needed bath.  Hell, he only slayed approximately 742 different species of bugs and insects on the way to ABQ and brought our friend in safely.  Seemed only fitting.  Not to mention the added bonus of a photo op!
With Rooster once again clean, dry, and serviceable, it was off to dinner at, you guessed it, The Monte Carlo!  We walked through the liquor store and into the restaurant and were quickly seated in a booth.  It took a few seconds to sink in and then it hit Adam like a ton of bricks.  The first time Adam and I met in person we met at The Monte Carlo.  We were seated in the same booth tonight and it's the first time Adam and Steve get to meet in person.  How perfect is that!?!
The sun was on the fast track to setting once we had our fill of great food and conversation so we quickly snapped a few shots at the liquor store/restaurant before heading out for as many photos as time would allow.
First up was a great little alley Adam knows about.  They even had our parking spaces reserved.
It was then down a side street to snap a few more before parting ways for the night.  Us Miata guys need our beauty sleep before tackling the twisties bright and early tomorrow!
A Day in the Life…
The next day was jam packed.  An early start to hit a great route Adam picked out to take us up to Los Alamos and back.  The scenery could be a seperate blog of its own.  Having grown up in Oregon I was familiar with mountains and forests but nothing compares to the beauty of New Mexico.  The vistas are not only amazing but there is such a variety of landscape on any given drive.
First stop was to pray for safe travels up into, and over, the mountains.
We also made a quick roadside stop to check out a very cool waterfall along the way.  We were met by more than just the view.  We were met by a very curious group of people with many questions and lots of compliments aimed at our little Roadsters.  Why I didn't snap a picture of them is exactly the same reason I'm not a professional photographer.
The mountain road was a blast and we were soon in the outskirts of Los Alamos.  Time to do it all over again!
This place also allowed us to try and time our departure back up the mountain with the idiots other people that so desired to clog up our road went up the mountain.  For the most part we did well sans a few that seemed to take an absolute pleasure in speeding up for the straightaways and then slowing waaayyyy down for the fun parts.  There is an absolutely amazing valley just over the peak that was too good to pass up on our return trip.
I think, beyond the majestic views, the thing that struck me the most was the smell.  As soon as we started our uphill climb into the mountains the smell of a 20 year old car starving for air, and living most of the drive above 5K RPM, was replaced by the beautiful aroma of the forest.  It's been a long time since I've been able to enjoy that aroma and I won't let so much time go by before I enjoy it again.
We took a lunch break on the way back into ABQ in one of the small mountain towns.  It was exactly as I'd imagined it to be as we pulled up.  We bellied up to the bar and sat on barstools made from tree trunks.  In hindsight I forgot to ask Adam and Steve if their barstools were as uneven as mine…  Needless to say it was the right place to be and without such a hectic social schedule already planned for the day we'd have stayed longer to soak in the aura only small town mountain people and towns have.
From the comfortable cooler temperatures that high elevation and trees provide, we were off to again test the human body against the elements.  Destination: J&R Vintage Autos.  My wife is a pro at finding things to do and she found this small car museum in ABQ that is run by a family.  They have three generations of family that run the place and the old man still tinkers on the cars in the restoration shop.  We did what any Miata loving bunch would do with miles and miles of open road ahead of us…  we took pictures!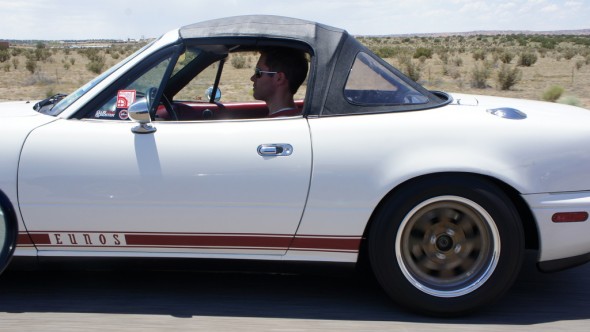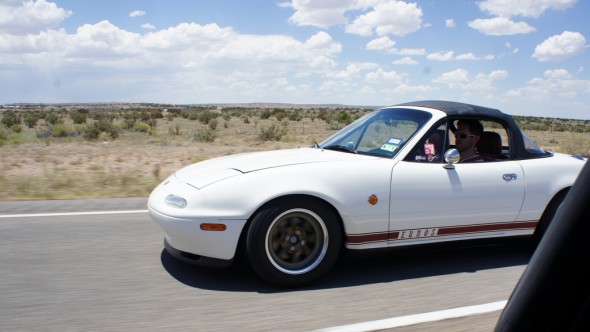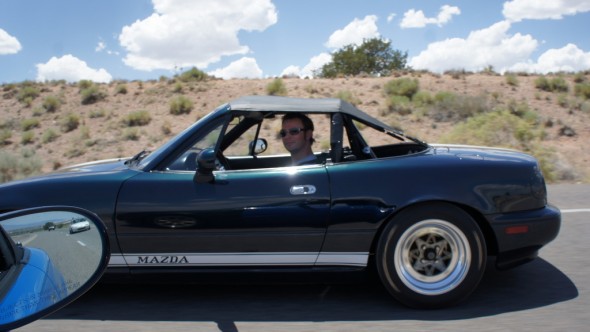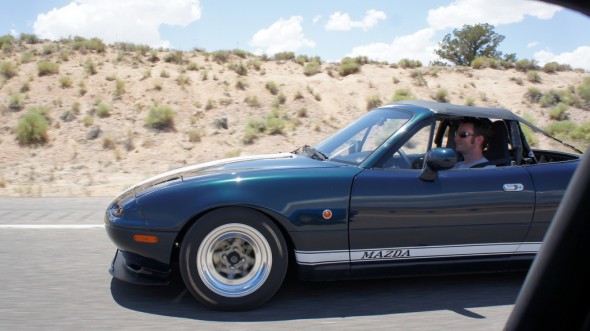 Thanks again guys for slowing down enough to allow me the chance to get these shots.  Much appreciated!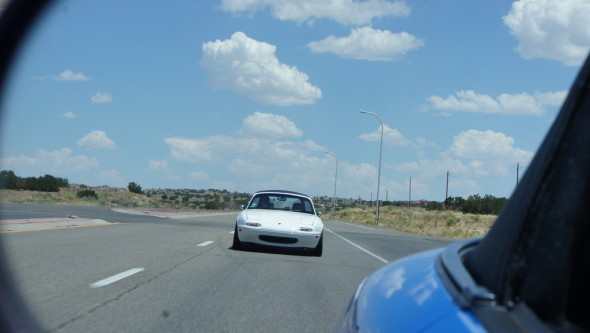 I actually didn't snap very many pictures there.  Their AC was just a touch cooler than the outside temperature and I took in every degree of cooler air I could.  We enter the museum and Adam instantly starts shooting pictures of gauges.  To be expected, right?
We all sort of migrate off into different directions and as I come around the corner, Adam is now BEHIND the chain and is TOUCHING a car.  Oh, god.  We're going to jail.  I don't even care at this point since their AC probably works and I could use a little downtime.  Turns out the owner's grandson is the guy working the counter when we came in and Adam asked for a more personal tour of the things that matter most.  The guy couldn't be more accomodating and even let us into the restoration shop.  All in all, it was a great time and well worth the stop.
About that much needed downtime…  After our visit at the museum it was back to revlimiter HQ for some rest, relaxation, and food.  To make things interesting we decided to head out for Sandia Crest in time to arrive at the top for sunset.  Most of the road is narrow with very few places to pull off.  Luckily near the top there is a nice tight corner with enough shoulder room to fit three Miatas.  You can never have enough rolling shots, right?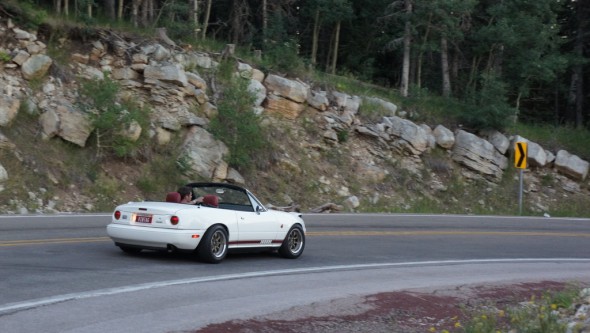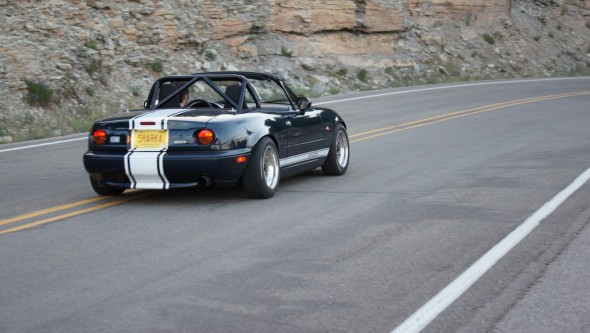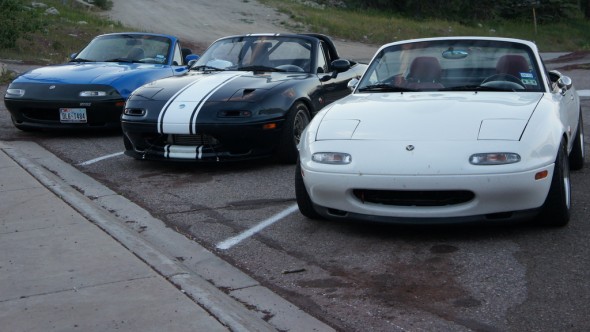 On one of the 'laps' Adam did for the rolling shots he saw a bear in the road as he was turning around.  Never spotted it again but there were two deer in the ditch near the top of the mountain as we started our decent in total darkness.  Adam has the best headlamps of the bunch so we let him volunteer to take lead.  Perfect weather for a night drive and ABQ arrived much too soon for my tastes.  At the end of this drive is the first of two good-byes.  Soon Adam was headed for home and Steve and I were prepping pictures and having a cocktail before resigning ourselves to the reality that today was over and the morning would be here soon.
Homeward Bound
Steve and I met up at 6:00AM to start our trip back to Texas.  The usual checking of fluids and trying to remember just how the hell we actually fit so much into such a small trunk complete, it was time to head out for some much needed coffee before hitting the road.
With that, it's time to leave ABQ and head East.  Albuquerque gave us one last parting gift as we got on the interstate heading out of town.
Flipper played lead car today and soon the cruise control was set and we were on our way to Amarillo for lunch before we split off onto Highway 287 towards DFW.  Amarillo decided to not let us leave without complication.
My guess?  Someone tried to be polite after doing a #2 and lit a match to mask the smell.  Investigation is ongoing.
There really isn't much to see or stop for along the way but we did find an abandoned car lot at one of the nearly vacant towns that speckle 287.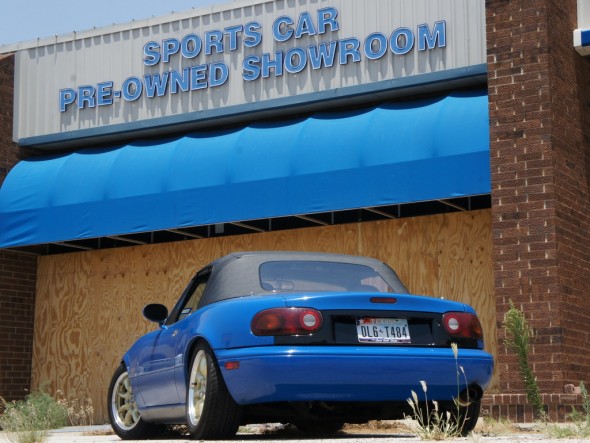 The desire to get to our homes outweighed our plans to take pictures along the way.  We made a few stops for much needed fluids.  For both us and our Roadsters.  Other than that is was zooming along the country side.  Well, almost.  There were two instances of shredded tire on the road.  One patch we managed to all but avoid but the second patch of strewn rubber happened just ahead of us.  Another trailer.  Another blowout.  The problem was that there were two trucks and trailers travelling in tandem and it was the first truck and trailer that had the blowout.  The second did little to warn us that pieces of debris were headed our way as any quick swerving he might have given thought to could have ended badly for him.  Tried our best to avoid what we could but ended up taking a rather large piece right in the chin.  Thankfully nothing was torn off or damaged.
The last little frustration came in the form of a Ford F-150.  Remember that scene in Man on Fire when Denzel Washington's character duct taped the guys hands to the steering wheel and started cutting off one finger at a time?  I think it should be legal to duct tape people's feet to the gas pedal and start cutting off toes one at a time every time they deviate their speed + or – 5MPM.  This sonofabitch couldn't maintain any resemblance of a pace to save his soul.  Went from tailgating to lagging way behind to boxing us in.  Mind you, I haven't touched a thing and have the cruise control set at 75MPH.  This back-and-forth had to have gone on for a good 20 minutes and at one point I'm yelling at them in vain to just pick a speed and stick with it.  We, in turn, boxed him in a time or two and they finally drifted off into our rearview mirrors.
And with that, the fork in the road quickly approached us in Decatur, TX.  It was time for the second set of good-byes and for me to make the last four hours of the journey home solo.
We parted ways and I began my journey south.  At least that gave me the opportunity to get some sun on my right arm.  Boring drive but one I've made 100s of times and the milestones ticked by like clockwork.  3 hours 'til home, 20 miles 'til this cutoff, etc.  It wasn't like I was going to get any hotter or stickier so with 2 hours to go I made my last stop for fluids and dropped the top.
With only 130 miles to go, a full tank, and an 80MPH speed limit ahead of me it was time to go open loop!
Almost exactly 14 hours after departing ABQ I'm pulling into my garage.  14 hours in the Miata with only a few stops and one major accident along the way.  3651.3 miles in two weeks and I can't wait to do it again!  In the Spring.  Or the Fall.  Either of those seasons would be ideal.  I had a long time on the way home to search for words to describe these last few days but alas, I cannot.  Not even going to try and butcher the English language.
I know this, though.  I've met and made some amazing friends and I'm truly blessed to call Adam and Steve friends.  There will be more gatherings and more people to join in as the future becomes the present.
Thanks!
Adam – Thank you for your friendship and donating some real estate on revlimiter.net.  It's been a blast!

Steve – Thank you for your friendship and for driving 20 hours to hang out for 16!

Mrs. revlimiter for welcoming all of us into your home.  My wife really enjoyed getting to meet you and Adam +1!

Sharka – Thank you for donating a kidney radiator to Flipper.

Rooster and Flipper – Thank you for enduring the long drives, and the hard drives, without complaint and getting us home in one piece.

Thanks to everyone that posted comments and sent me text messages along the way.

And most of all, to my wife.  Thank you for not only supporting me on this adventure but for being a part of it.  And for being a part of the greater adventure that is our life together.  I love you.

«