Tag: Enkei RP-F1s
November 25th, 2009 — Sharka pix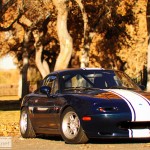 Photo post: autumn Sharka pix. Pretty leaves, pretty wheels, and my rarely-seen hardtop. All seen through my 70s-vintage Vivitar lens.
READ MORE

November 10th, 2009 — The Sharka Rebuild, Wheels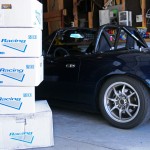 This blog post has been a long time coming. A long time. As long as I've been rebuilding my car since The Bonk. See, after I decided to rebuild Sharka, I started looking around for a new set of wheels. That was last November. I found these unique RP-F1s in June. I paid for them around the beginning of July. And now they are MINE.
READ MORE