The big, Motor Trend sponsored auto show came though town recently. My camera and a few buddies from work went with me for the opening on Friday afternoon. Though MANY manufacturers were missing, it was a good time. The event was lightly attended, yet the cars I wanted to shoot were very popular. I didn't get many chances to shoot whole cars, so instead I decided to do close-ups.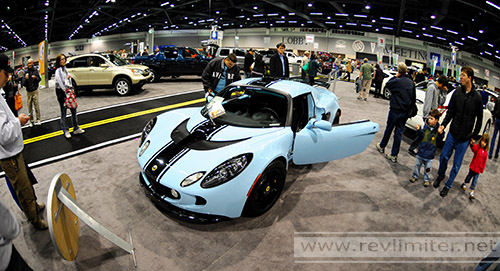 An example of the crowds – juuuuuuuust enough to keep me from getting clean shots of the more photogenic models.
Click any thumbnail below to see the gallery in lightbox. You can page through without closing by clicking the prev and next links.
Lots of makes were totally absent from the show- Mazda, BMW, MINI, Porsche, Mercedes, and anything Italian. This bummed me out, since all the named makes had OUTSTANDING booths in previous years. No Mazda made me a sad boy.
Quite a few "new and hot" models weren't in attendance either, like the Chevy Volt. The new Camero was in attendance, yet was completely covered in people. It was also a dull grey color. None of my photos of it turned out. Still, it was a good time. I look forward to next year.