I received a couple of orders for green gauges within a few days of each other. Kind of a strange coincidence. I get an order for green maybe once a year. Two at once? I had to take the opportunity to install each set in test clusters for some photos.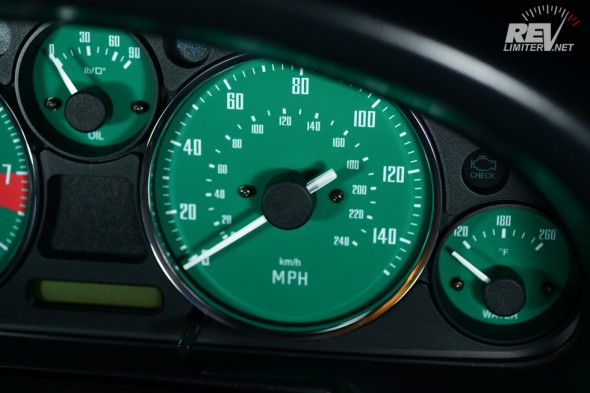 This order came from a guy named Quinn. He didn't want a whole lot of modification done. He spec'd the tach to be in thousands rather than hundreds and his name in place of the vintage Mazda logo. And, of course, the custom green color. It was hard to get the photos to show the color perfectly. It's a lovely dark green that's not too saturated. It came out really well. Something very unique for Quinn's NB.
Night-vision on the GT-40 gauges. This also came out nicely. This is my OEM green lighting gel with white LED bulbs installed in the cluster. It is VERY bright on my workbench.
Just a few days later, a guy called Tom ordered this set of custom Version 1002s. Every gauge was customized. Tom wanted something simple for his 1991 BRG Roadster. He wanted something without any clutter. Something classy yet minimal. And this is the result.
The British Racing Green color is… well, it's really awesome. I'm not sure how the color is coming through YOUR monitor, but the color is dead on for BRG. I'm extremely proud of how these turned out.
And here are the 1002s at night. They also were ordered in OEM green. This time, I have stock incandescent bulbs and green bulb covers lighting them up. And man… they're really tack-sharp. I think this is the best set of non-black gauges I've ever produced. I hate to blow my own horn, but I'm really proud of this set, both in the daytime and lit at night.
Anyone else out there want some green gauges for their Miata? I'd be happy to make some for ya!